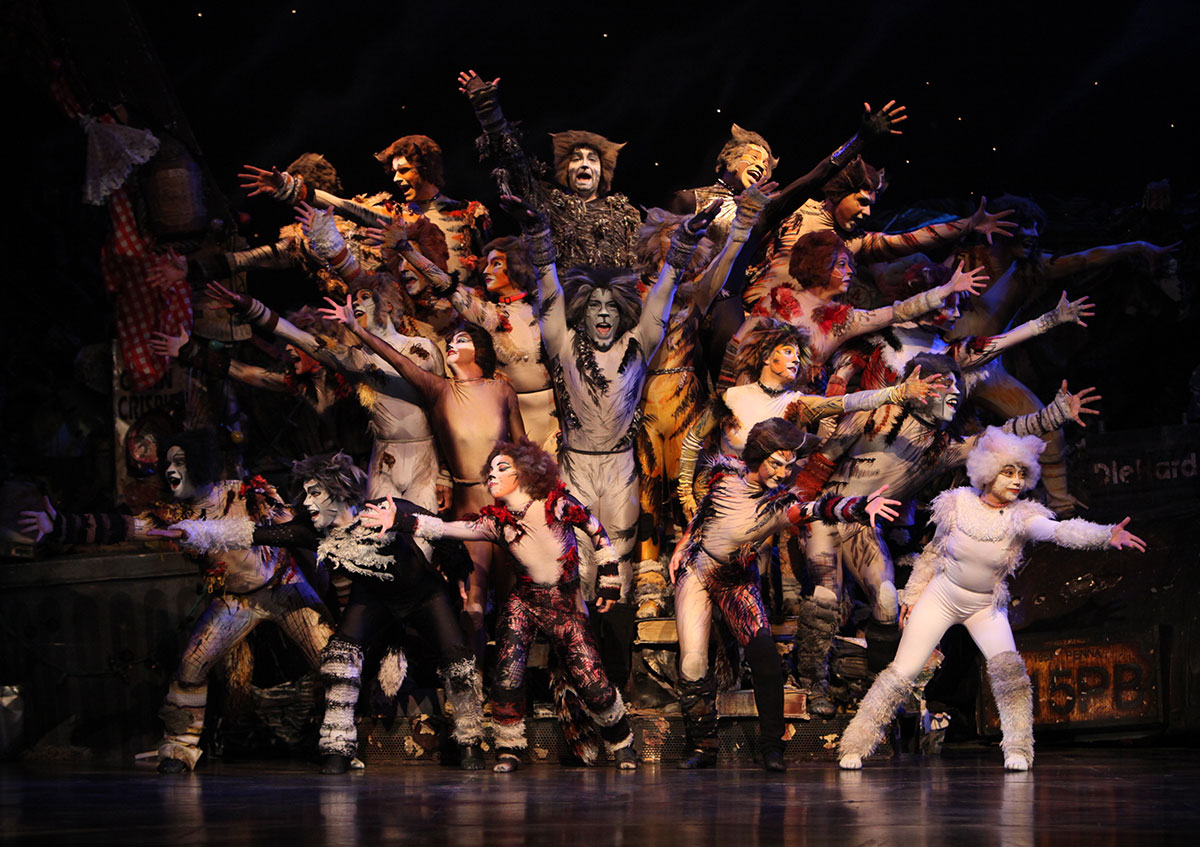 Celebrating 30 seasons of Broadway Rose
Browse a collection of stories for each season in Broadway Rose history, including record-breaking productions, staff growth, enduring partnerships, and moments that tested the old adage, "the show must go on!"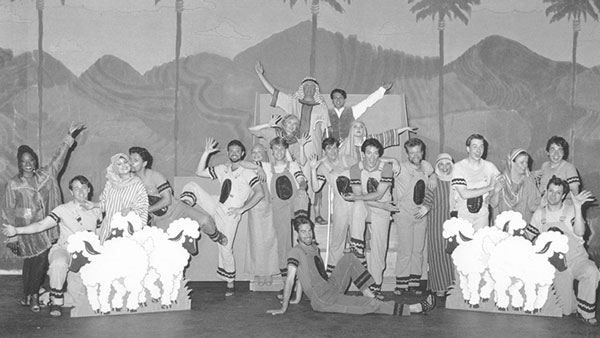 1992
Four New York theatre artists (married couple Sharon Maroney and Dan Murphy, along with partners Matthew Ryan and Joseph Morkys) dreamed of opening a professional summer stock theatre in Tigard, Oregon. After pooling their savings, securing the Deb Fennell Auditorium, and hiring eight actors and a musical director from New York, they headed west. The first production opened on July 2, 1992. With as few as 30 people in the audience for a performance during the run, Joseph and the Amazing Technicolor Dreamcoat (pictured) gave Broadway Rose its humble start to becoming Oregon's premier musical theatre company.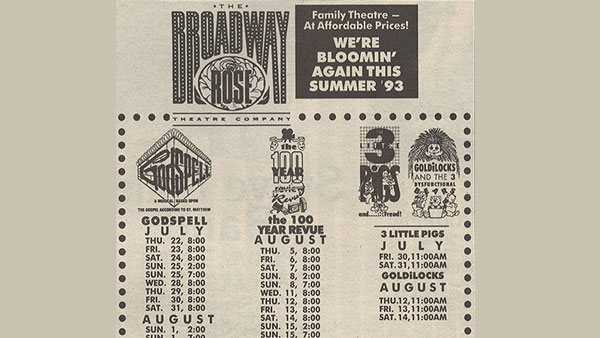 1993
In season two, our fledgling company received a $3,000 grant from the Metropolitan Arts Commission (a forerunner of the Regional Arts & Culture Council). RACC has supported Broadway Rose for 30 years!
1994
Ari Shapiro, host of NPR's All Things Considered and Consider This shares a story from 1994 in this short video.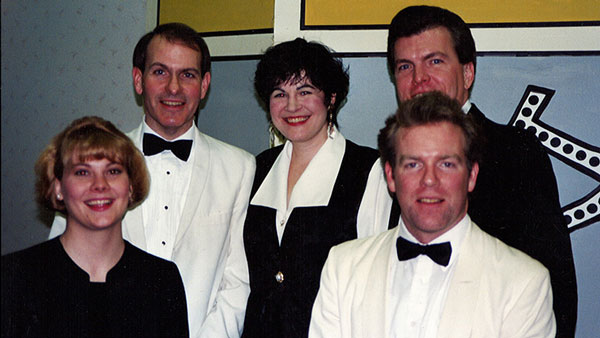 1995
Broadway Rose got its first paid employee when The Collins Foundation awarded the company a $5,000 grant, allowing Artistic Director Sharon Maroney to be compensated after three years co-leading the organization as a volunteer.
📸 Pictured, from left: Kellie Johnson, Richard Bower, Sharon Maroney, Rick Lewis (back row), and Dan Murphy (front row).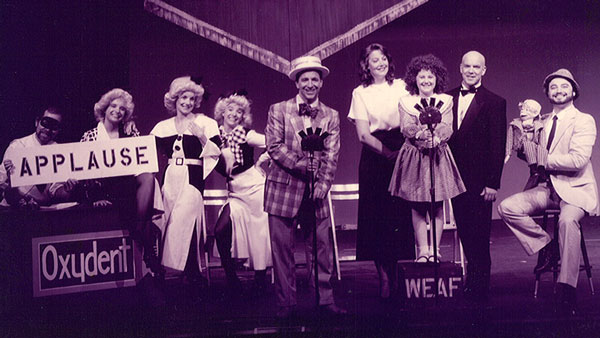 1996
The show must go on! When the actor playing Daddy Warbucks in Annie was admitted into the hospital for severe pneumonia on opening night, the company jumped into action. Managing Director Dan Murphy shaved his head and the production team found him a costume and taught him the blocking, songs, and dance numbers. They sent him on stage with a script, but also taped his lines and lyrics to various furniture pieces on stage. By the second weekend Dan had memorized the show and completed the run.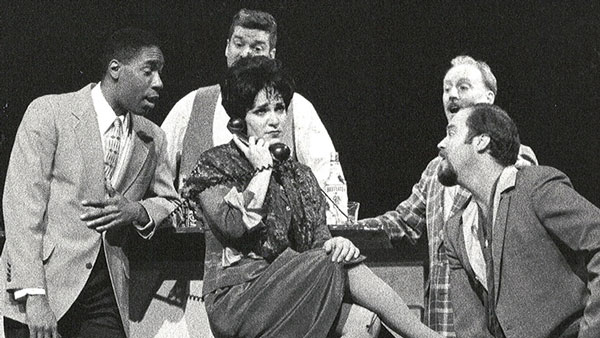 1997
A young Shoshana Bean, who would become famous for portraying Elphaba on Broadway in Wicked, starred as Rosie in Broadway Rose's production of Bye Bye Birdie. "I remember Shoshana auditioning for us that summer – she knocked her audition right out of the park," says Artistic Director Sharon Maroney. "She was a real talent as a young performer. It's been wonderful to watch her Broadway career grow and the success she has had with her singing career."
1998
Artistic Director Sharon Maroney endeavored to kick up the production values for the summer production of Hello, Dolly! and rented a costume package and a set from Santa Barbara Civic Light Opera – a first for the company. Dan Murphy directed the production and Sharon starred as Dolly Levi. The Oregonian review called it "big, broad and full of brass."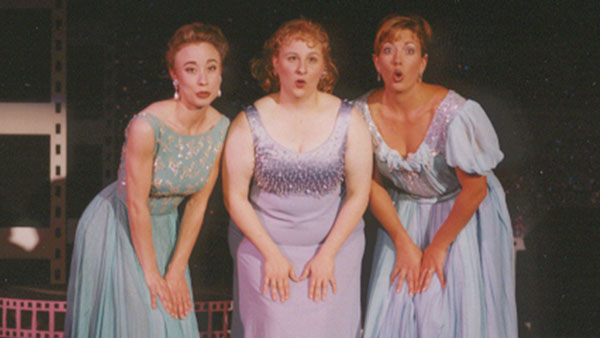 1999
The Sherwood Arts Council contracted Broadway Rose to produce Broadway Goes Hollywood, a musical revue celebrating movie musicals. The production was a fundraiser for SAC's inaugural arts festival and was held at the historic Robin Hood Theater in Sherwood.
📸 Pictured, from left: Stephanie Murray, Jennifer Ackerman, and Pam Mahon.
2000
On April 8, Broadway Rose hosted a spring showcase at the Tigard Friends Community Church. The free event featured a preview of songs from the upcoming summer musicals: Grease, Baby, and The World Goes 'Round. Attendees purchasing subscriptions at the event received a 10% discount. The success of the showcase inspired the Curtain Up Season Announcement party, held annually for donors.
2001
Broadway performer Kelly Grant shares a story from 2001 in this short video.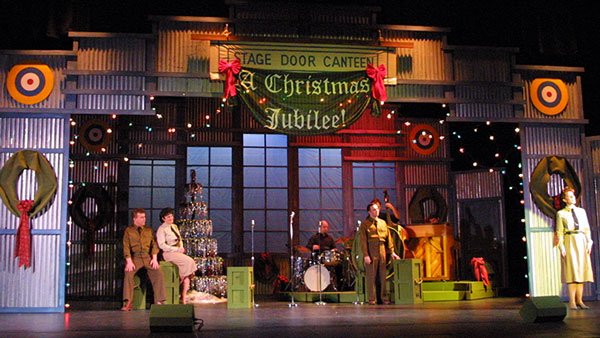 2002
Broadway Rose partnered with composer Rick Lewis to develop the holiday version of his musical G.I. Jukebox. Set during WWII, the show features four fictitious Hollywood stars who have gathered together a string of 1940s hits and Christmas music to entertain the troops. The rights for the new musical, G.I. Holiday Jukebox, were acquired by Select Entertainment Productions and the show has since been produced at theatres around the country.
📸  Pictured, from left: Rick Lewis, Sharon Maroney, Wade Willis, and Debbie Hunter.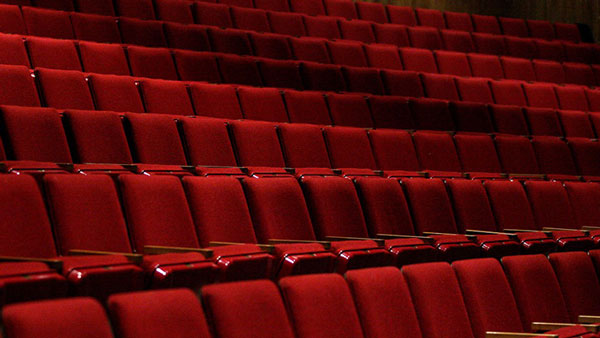 2003
As ticket sales increased and many shows sold out, the general seating policy Broadway Rose had followed for the past decade at Deb Fennell Auditorium proved to be chaotic. Patrons often arrived before the staff to get in line for the best seats and the lobby would be overcrowded. The company initiated assigned seating at the holiday show, which eased congestion and improved our guests' experience.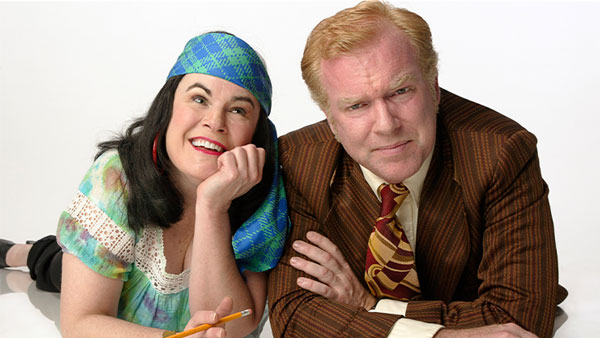 2004
For the first time in Broadway Rose history, co-founders Sharon Maroney and Dan Murphy shared the stage in They're Playing Our Song, a musical inspired by the real-life relationship of composers Marvin Hamlisch and Carole Bayer Sager. The production featured a book by legendary playwright Neil Simon, with music and lyrics by Hamlisch and Bayer Sager, respectively.
2005
Director/choreographer/performer Peggy Taphorn shares a moment from 2005 in this short video.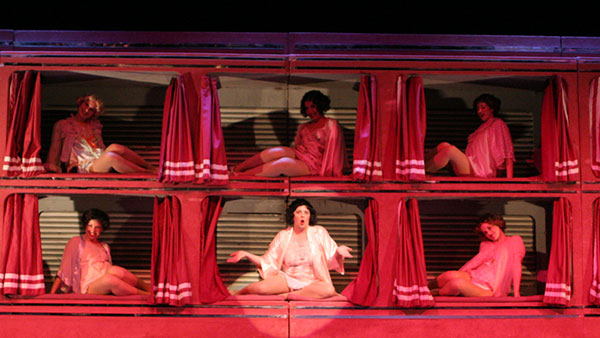 2006
With a moving truck set to deliver the costumes and enormous set rented from American Musical Theatre of San Jose for 42nd Street and no place to store them prior to moving into the Deb Fennell Auditorium, the company struck a deal with the Tigard-Tualatin School District to store everything at the empty Tualatin Elementary School. Broadway Rose has had a valuable and enduring partnership with the district since its inception, and are so grateful for TTSD's valuable contributions to our success!
📸 Pictured, top row left to right: Elizabeth Edwards, Angela Baldino, Cristin Sweeney. Bottom row, left to right: Megan Carver, Melanie Shaw, and Brisa Carleton.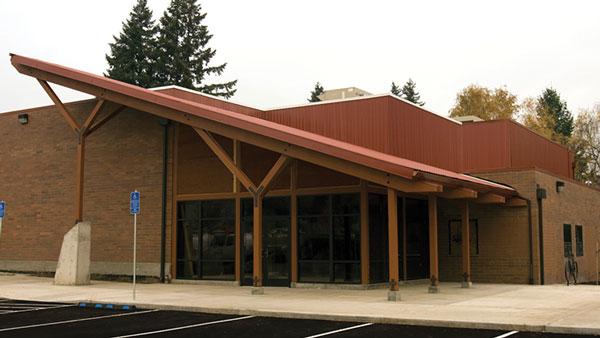 2007
After the Tigard-Tualatin School District's board approved Broadway Rose's proposal to transform the abandoned cafeteria building at the Charles F. Tigard Elementary School into a theater, planning ramped up for the renovation. Working with Soderstrom Architects on the design, Robert Gray Partners for construction, and Shiels|Obletz|Johnsen to manage the project, the company announced its plans and launched a successful fundraising campaign. Completed the following year, the New Stage became the company's administrative headquarters and allowed Broadway Rose to produce musicals year-round, as well as expand its educational programming.
2008
Director and Broadway actor Robert Hunt shares a memory in this short video.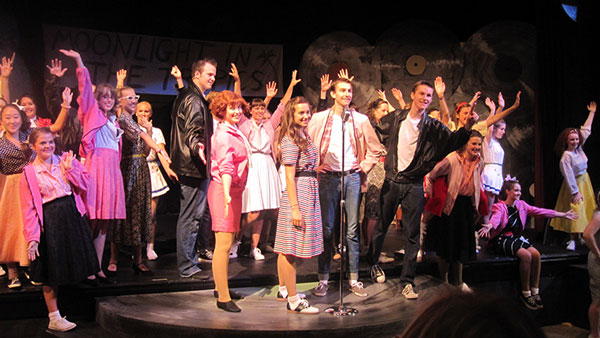 2009
Broadway Rose launched an intensive 3-week training workshop designed for young performers serious about pursuing musical theatre in high school, college, or professionally. The 40 inaugural students rehearsed and mounted a full-scale production of Grease, directed by Joe Theissen with musical direction by Mont Chris Hubbard and choreography by Amy Frankel. The popular program has continued to thrive under the direction of Isaac Lamb and the workshop typically sells out within minutes of being announced.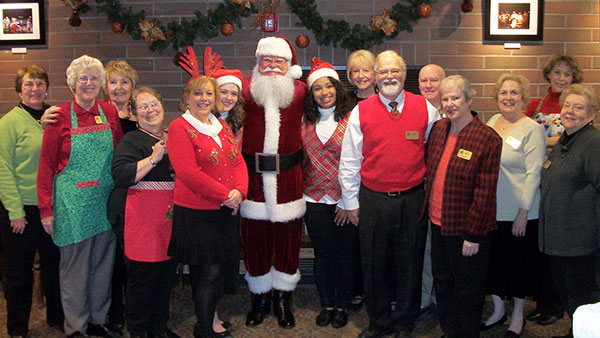 2010
The Broadway Rose Theatre Guild hosted its first annual Santa Sing-Along fundraiser. Guests enjoyed singing favorite holiday carols, led by Broadway Rose performers and Santa's elves, and a special story reading by old St. Nick himself! Afterward, children had the chance to meet Santa and take photographs. The Guild has now hosted this signature event for 10 years, bringing much holiday joy to all ages.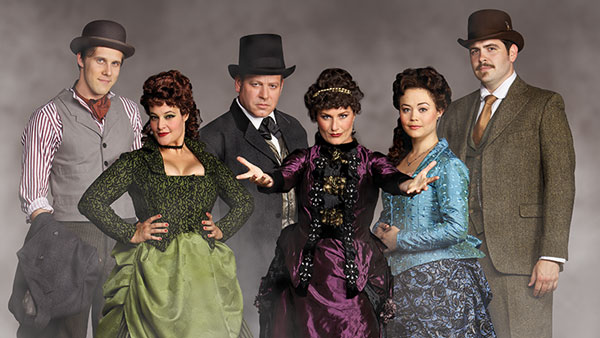 2011
Broadway Rose received a $30,000 grant from the National Endowment for the Arts' Access to Artistic Excellence program to produce the musical thriller Ripper, the company's first large scale, fully staged world premiere. Chicago-based author and composer Duane Nelsen loosely based his script on the story of Jack the Ripper; Broadway Rose was introduced to the musical at the National Alliance for Musical Theatre 2009 Festival of New Works. Sets, costumes, and musical arrangements for the premiere production were all created by Broadway Rose, and an original cast recording was produced.
📸 Pictured, from left: Joshua Stenseth, Rebecca Teran, Bruce Blanchard, Amy Jo Halliday, Audrey Voon, and Isaac Lamb..
2012
Director and Professor of Musical Theatre Lyn Cramer shares a memory from 2012 in this short video.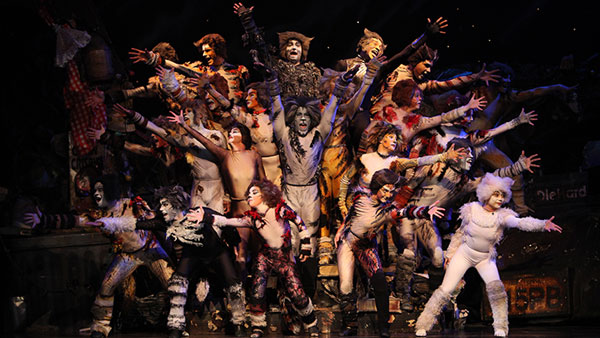 2013
Broadway Rose produced the Andrew Lloyd Webber hit Cats with the assistance of its third consecutive National Endowment for the Arts grant, and the blockbuster show set a new ticket sales record for the company. The production received much praise, with one reviewer noting, "This troupe, without exception, nails every beat."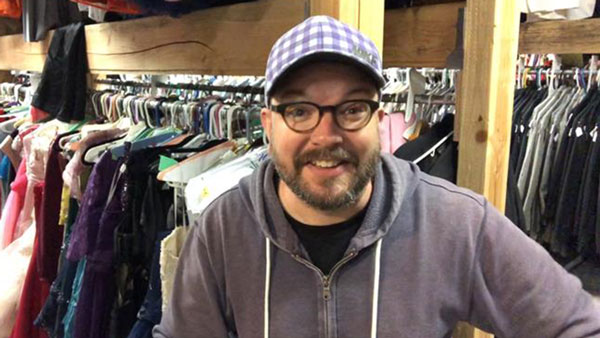 2014
Having rebounded from the financial challenges of 2011, the company's motto was "hold steady." The staff worked diligently to keep spending down while focusing on income opportunities and artistic excellence. One exciting addition to the team was Jeff Duncan as the company's first full-time production manager, a much needed position.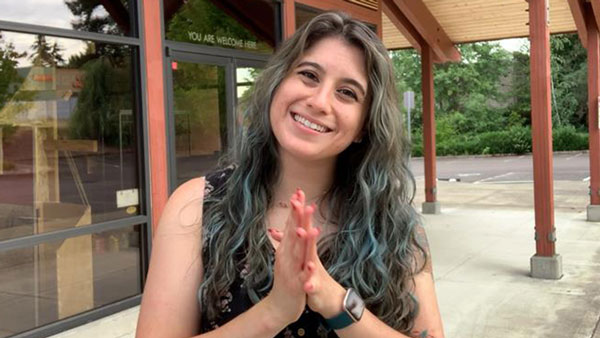 2015
The Oregon Community Foundation and The Collins Foundation awarded Broadway Rose grants to develop an Authentic Community Engagement plan over an 18-month period of time. Working with respected consultant Bonnie Ratner, the Broadway Rose staff, board of directors, and select volunteers developed a plan. Amaya Santamaria was hired as our Community Engagement Coordinator to assist in implementation and has been building community relationships and strengthening our education programs ever since!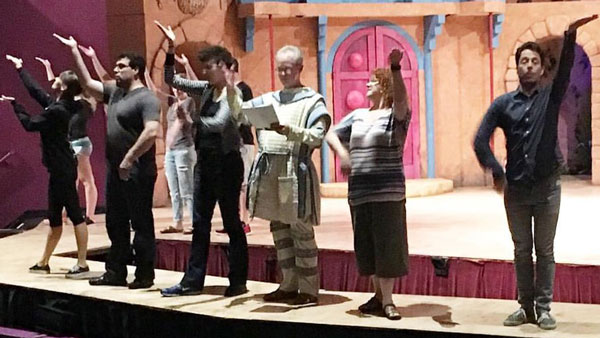 2016
Co-founding general manager Dan Murphy was starring as Pseudolous in A Funny Thing Happened on the Way to the Forum when, just prior to the final weekend of performances, he was hospitalized with acute pancreatitis, unable to perform and unable to continue his duties as general manager of the company. Marketing Director Alan Anderson stepped into the role of Pseudolus (with script in hand). The cast, crew, musicians, and audience all rallied around him. Thankfully, Dan fully recovered, delegated some of his job responsibilities, and moved into a new role as managing director.
📸 Pictured: Alan Anderson rehearsing with the cast before jumping into performances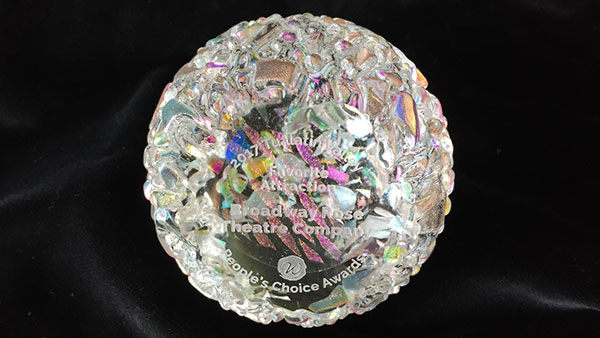 2017
Broadway Rose was named Tualatin Valley's Favorite Attraction in a poll by the Washington County Visitors Association.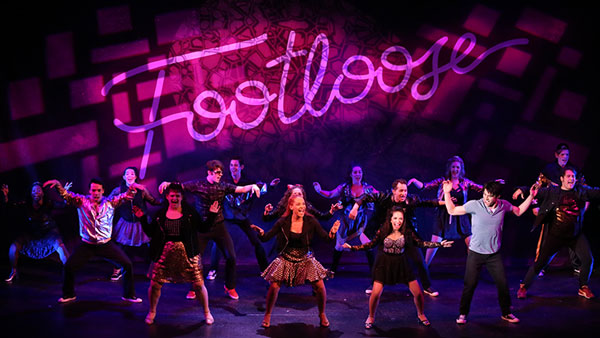 2019
Due to construction at Tigard High School, the summer productions of Into the Woods and Footloose were both performed at the 270-seat New Stage rather than the 600-seat Deb Fennell Auditorium. Footloose remains the largest cast to perform at the New Stage to date, with 28 actors and an 8-piece band. Both productions sold out.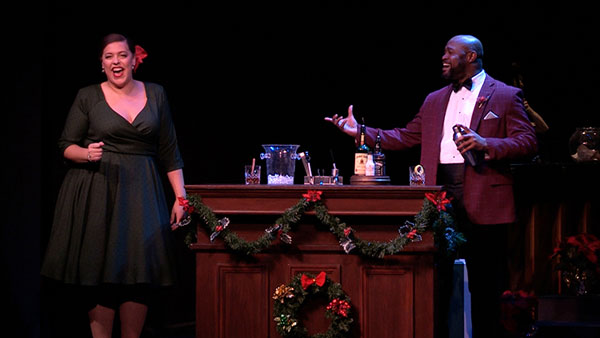 2020
When the COVID-19 pandemic forced the cancellation of live events, our production of Ain't Misbehavin', just two weeks from opening, was the first casualty, followed by the summer productions. The fall and winter shows were postponed to 2021. The company instead began producing a livestream cabaret series through the summer, then launched into fully-produced, filmed musicals available for streaming by fall. The holiday show, Christmas My Way, gave former Ain't Misbehavin' cast members Charles Cook and Courtney Temple (pictured) a chance to return for their overdue stage debuts!
Look for another inspiring performance from Charles in our gala presentation, Our Time.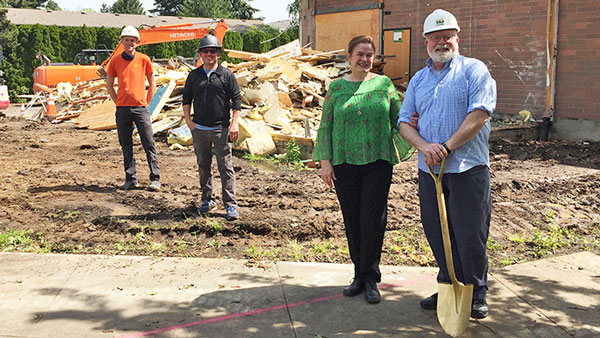 2021
After a year-long postponement due to the COVID-19 pandemic, on May 5 the company broke ground on a construction project to expand the New Stage! The expansion will allow the community to more fully access and participate in musical theatre, while we continue to present productions of exceptional artistic quality. The project includes a new studio space, costume shop, enlarged scenic shop, and additional administrative offices. (Learn more about the project here.)
📸 Pictured, from left: B&G Builders Construction Supervisor David Landau, Project Manager Greg Capen, Artistic Director Sharon Maroney, and Managing Director Dan Murphy.