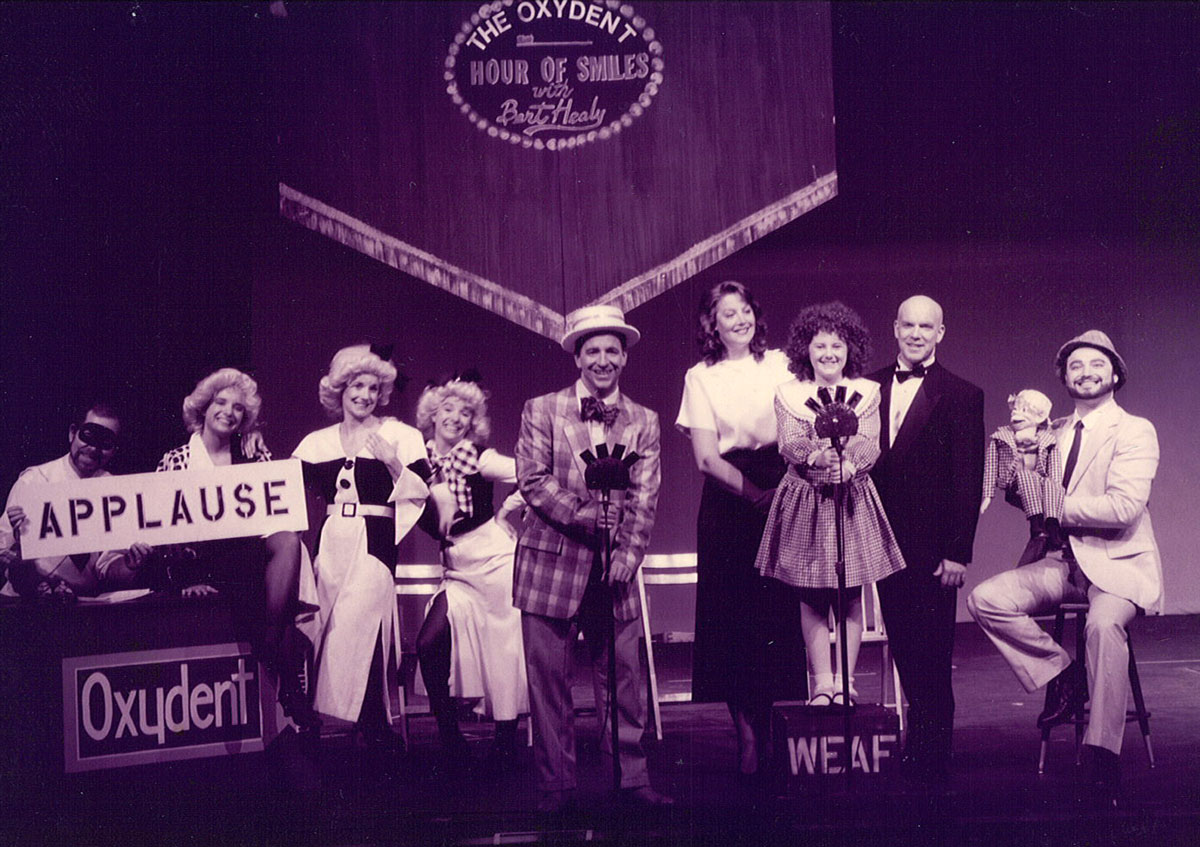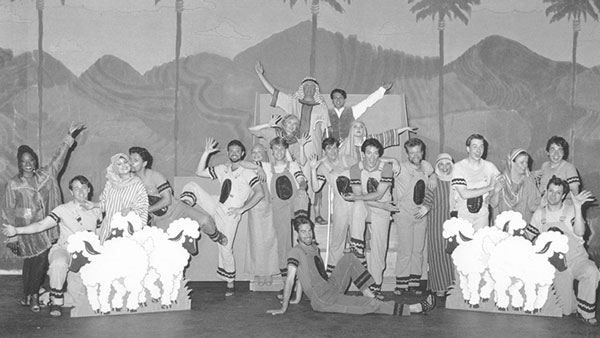 1992
Four New York theatre artists (married couple Sharon Maroney and Dan Murphy, along with partners Matthew Ryan and Joseph Morkys) dreamed of opening a professional summer stock theatre in Tigard, Oregon. After pooling their savings, securing the Deb Fennell Auditorium, and hiring eight actors and a musical director from New York, they headed west. The first production opened on July 2, 1992. With as few as 30 people in the audience for a performance during the run, Joseph and the Amazing Technicolor Dreamcoat (pictured) gave Broadway Rose its humble start to becoming Oregon's premier musical theatre company.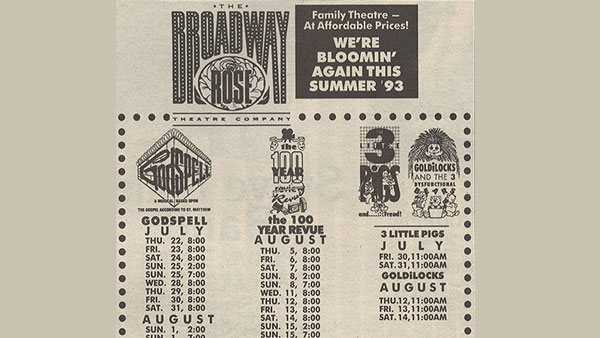 1993
In season two, our fledgling company received a $3,000 grant from the Metropolitan Arts Commission (a forerunner of the Regional Arts & Culture Council). RACC has supported Broadway Rose for 30 years!
1994
Ari Shapiro, host of NPR's All Things Considered and Consider This shares a story from 1994 in this short video.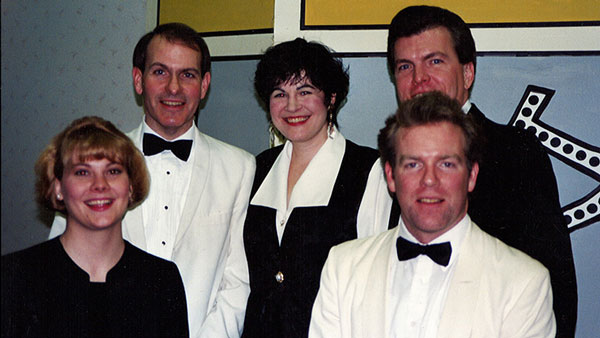 1995
Broadway Rose got its first paid employee when The Collins Foundation awarded the company a $5,000 grant, allowing Artistic Director Sharon Maroney to be compensated after three years co-leading the organization as a volunteer.
📸 Pictured, from left: Kellie Johnson, Richard Bower, Sharon Maroney, Rick Lewis (back row), and Dan Murphy (front row).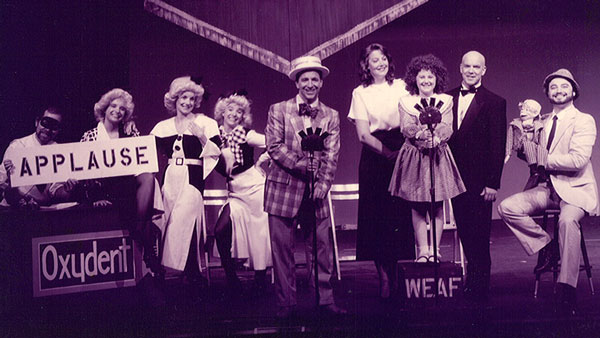 1996
The show must go on! When the actor playing Daddy Warbucks in Annie was admitted into the hospital for severe pneumonia on opening night, the company jumped into action. Managing Director Dan Murphy shaved his head and the production team found him a costume and taught him the blocking, songs, and dance numbers. They sent him on stage with a script, but also taped his lines and lyrics to various furniture pieces on stage. By the second weekend Dan had memorized the show and completed the run.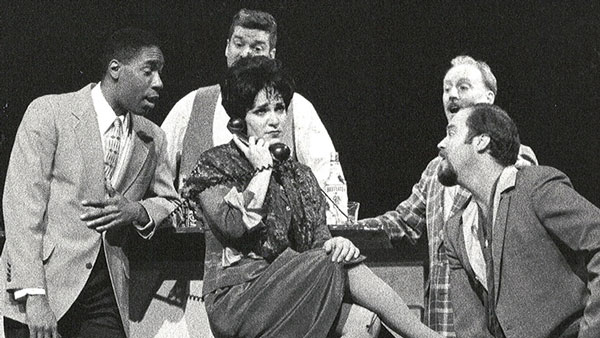 1997
A young Shoshana Bean, who would become famous for portraying Elphaba on Broadway in Wicked, starred as Rosie in Broadway Rose's production of Bye Bye Birdie. "I remember Shoshana auditioning for us that summer – she knocked her audition right out of the park," says Artistic Director Sharon Maroney. "She was a real talent as a young performer. It's been wonderful to watch her Broadway career grow and the success she has had with her singing career."
1998
Artistic Director Sharon Maroney endeavored to kick up the production values for the summer production of Hello, Dolly! and rented a costume package and a set from Santa Barbara Civic Light Opera – a first for the company. Dan Murphy directed the production and Sharon starred as Dolly Levi. The Oregonian review called it "big, broad and full of brass."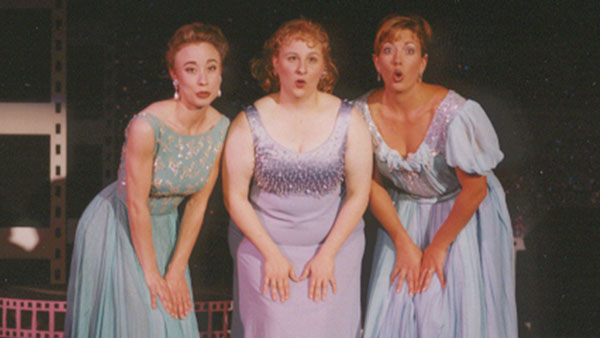 1999
The Sherwood Arts Council contracted Broadway Rose to produce Broadway Goes Hollywood, a musical revue celebrating movie musicals. The production was a fundraiser for SAC's inaugural arts festival and was held at the historic Robin Hood Theater in Sherwood.
📸 Pictured, from left: Stephanie Murray, Jennifer Ackerman, and Pam Mahon.
2000
On April 8, Broadway Rose hosted a spring showcase at the Tigard Friends Community Church. The free event featured a preview of songs from the upcoming summer musicals: Grease, Baby, and The World Goes 'Round. Attendees purchasing subscriptions at the event received a 10% discount. The success of the showcase inspired the Curtain Up Season Announcement party, held annually for donors.
2001
Broadway performer Kelly Grant shares a story from 2001 in this short video.
Make a gift in honor of Broadway Rose's 30th anniversary
Help Broadway Rose build for the next 30 seasons and beyond with a tax-deductible donation today! Thank you for supporting our mission to create unparalleled musical theatre experiences that invigorate audiences and enrich our communities.