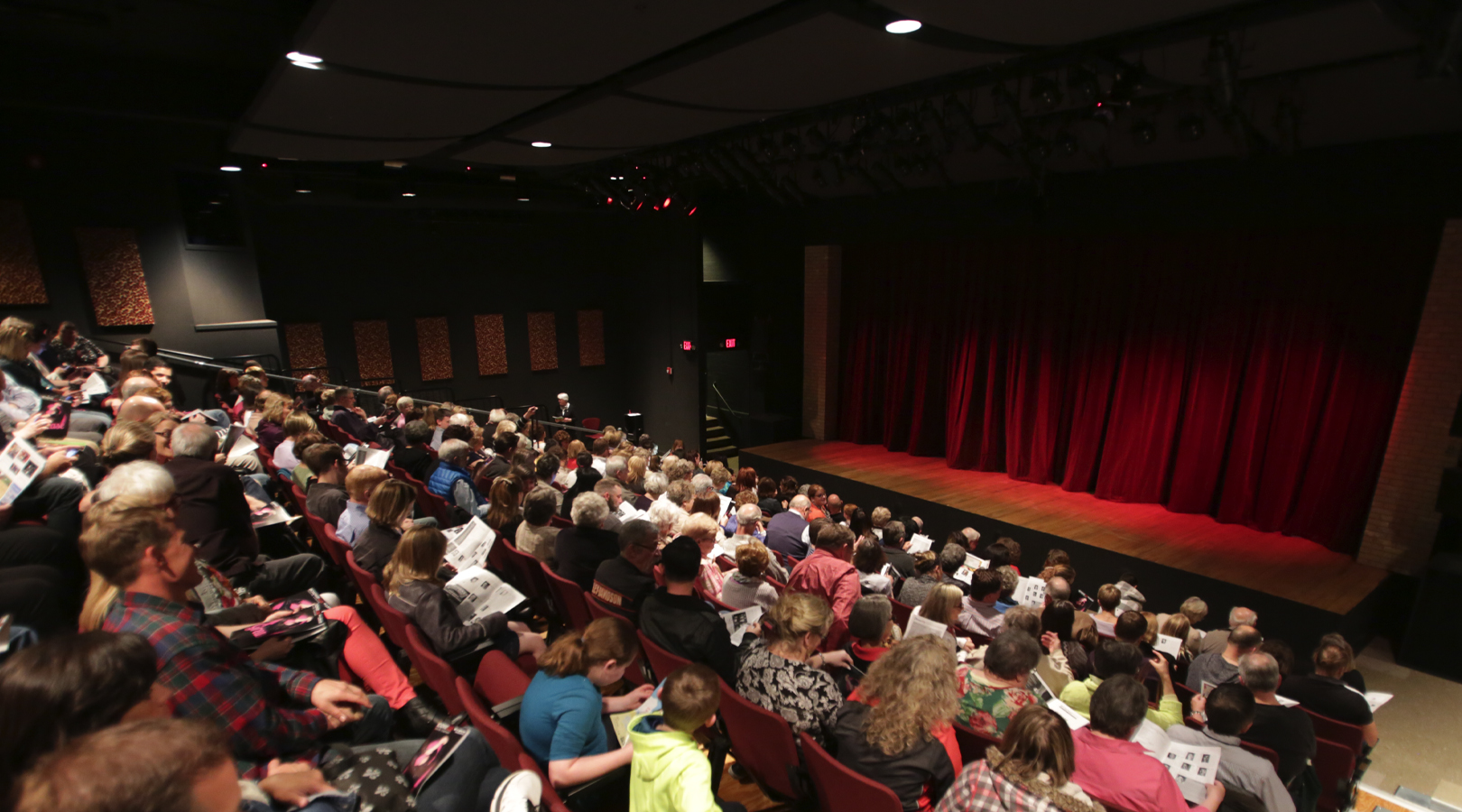 New Stage Theater. Photo by Craig Mitchelldyer.
New Stage Theater. Photo by Craig Mitchelldyer.
Regards from Broadway Rose
Winter 2023 Newsletter
Articles written by Dani Wright
Welcome to Regards from Broadway Rose, our new quarterly newsletter.
As we prepare to launch our 32nd season, we realize that we don't always have the opportunity to share a lot about what happens behind the scenes. This inaugural newsletter offers a look backstage, with stories about the incredible people who support Broadway Rose, as well as sneak peeks at some exciting programs and upcoming events.
We hope you'll grab a cup of coffee or a glass of wine, put your feet up, and enjoy reading a little bit more about what's happening at the theater.
Keep an eye out for our next issue this spring, and we'll see you in the lobby.
– Sharon Maroney and Dan Murphy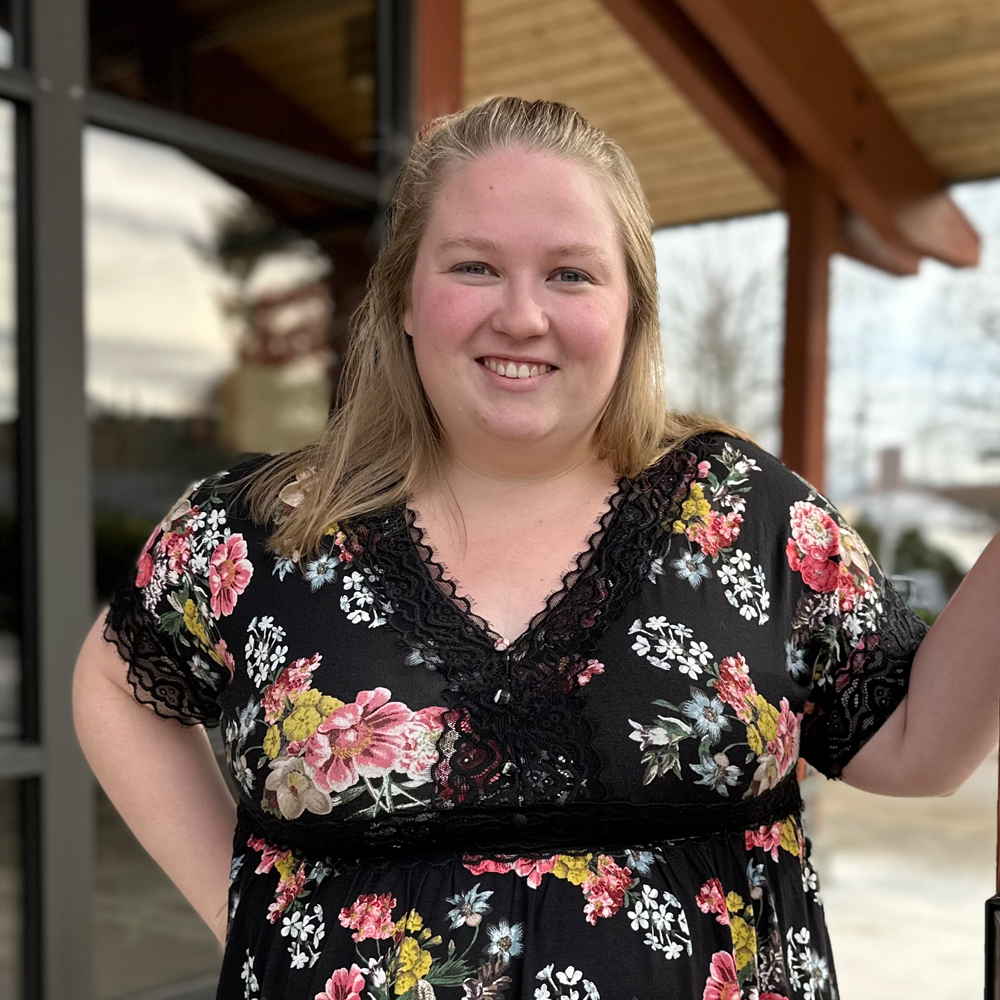 Brooke Larson, access manager and box office associate at Broadway Rose.
Meet the Staff
BROOKE LARSON, ACCESS MANAGER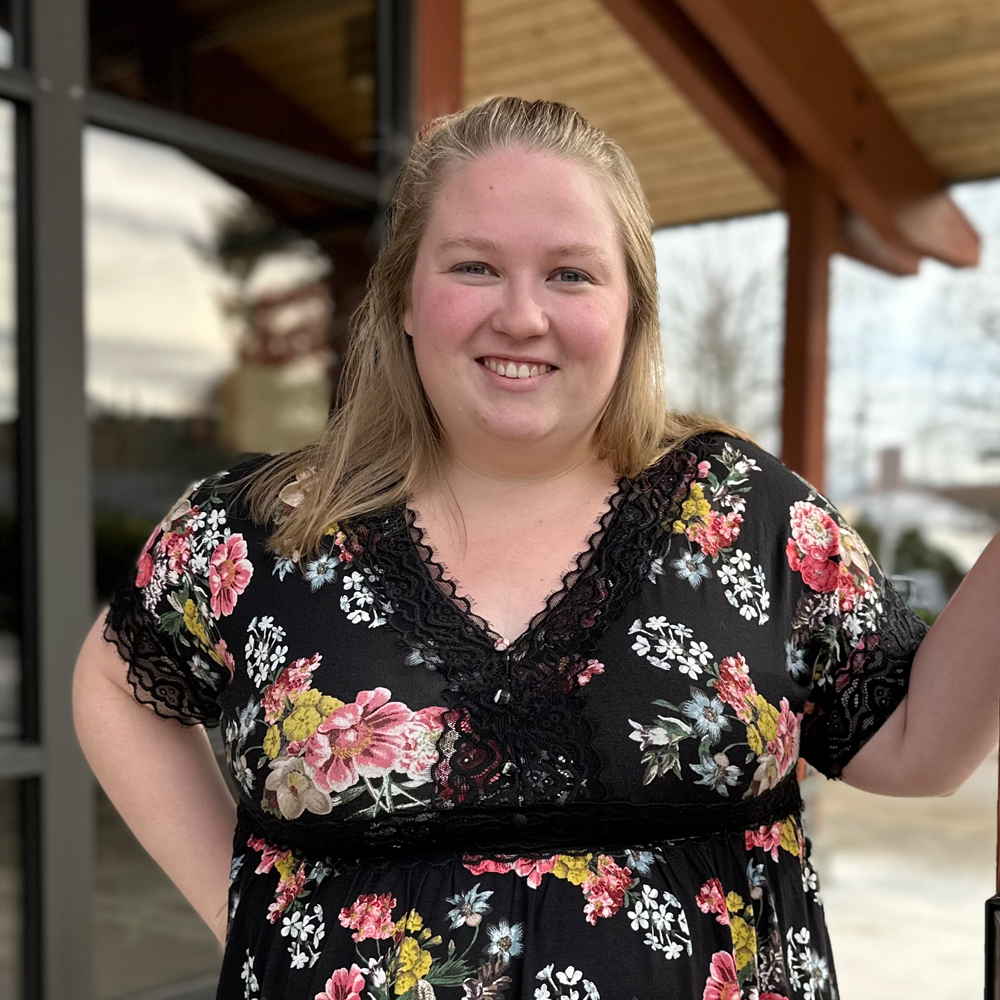 Brooke Larson, Access Manager and Box Office Associate at Broadway Rose.
Brooke Larson was hired as access manager at Broadway Rose in 2021. Her role involves research in ADA requirements and communication of accessibility options to patrons, as well as sharing patron needs with pertinent staff members. "We're not going to turn people away," Brooke said, noting that box office and front of house staff do everything possible to accommodate patron needs as they arise.
Like many here at Broadway Rose, Brooke benefits from an extensive background in drama and theatre. "I've been around theatre most of my life. I was in choir and drama in high school and I performed with the Singing Christmas Tree since I was in sixth grade," said Brooke, "So performing and theater has been in my life for a very long time."
Read more...
Brooke has at times considered different theatre careers, including directing, teaching and stage managing. "The 18-year-old Brooke who went into college would not even believe that 25-year-old Brooke was working in access and patron services, and I really love it," said Brooke.
Accessibility requests average around 4-6 patrons per performance, with more requests occurring for popular Sunday matinees. Requests range from inquiries on access options for patrons with crutches, canes, walkers, and wheelchairs, to informing the house management of individual patron needs. Patrons may also request the use of blankets, foot stools, booster seats, and armless chairs.
"I really want people to feel comfortable coming to the theater and being able to utilize the programs that they need to enjoy the show. I love theatre so much and I want other people to experience it positively," said Brooke.
In addition, Broadway Rose offers assistive listening devices for use during performances, large print programs, and one audio description per production. Audio descriptions are tailored for individuals who identify as visually impaired, and involve additional narration of physical actions on stage. Brooke provides the audio descriptions live, interspersing descriptions of movement on stage between show dialogue. "I try to be as descriptive as possible in a short amount of time." Brooke said.
Sensory guides are also available for each show, providing information on content and technical elements attendees should be aware of. These details also help patrons to evaluate if a show may be a good fit for younger children to attend.
New Automatic Door Improves Accessibility
One of Brooke's latest accessibility projects was the installation of a new automatic door. This enhancement should make it easier for patrons with mobility impairments to access our main lobby.
Brooke initiated the project in June of 2022, and was assisted in her efforts immeasurably by Amy Copeland of Shiels Obletz Johnsen, who also served as project manager for Broadway Rose's 2022 theatre expansion. After researching components and evaluating options, the decision was made to go with Quality Door Service (QDS), with additional support for the project provided by Viking Electric. Installation was completed on January 6, 2023, and Broadway Rose is pleased to offer this accessibility option just in time for our upcoming show Snapshots: A Musical Scrapbook.
Partnership with Guide Dogs for the Blind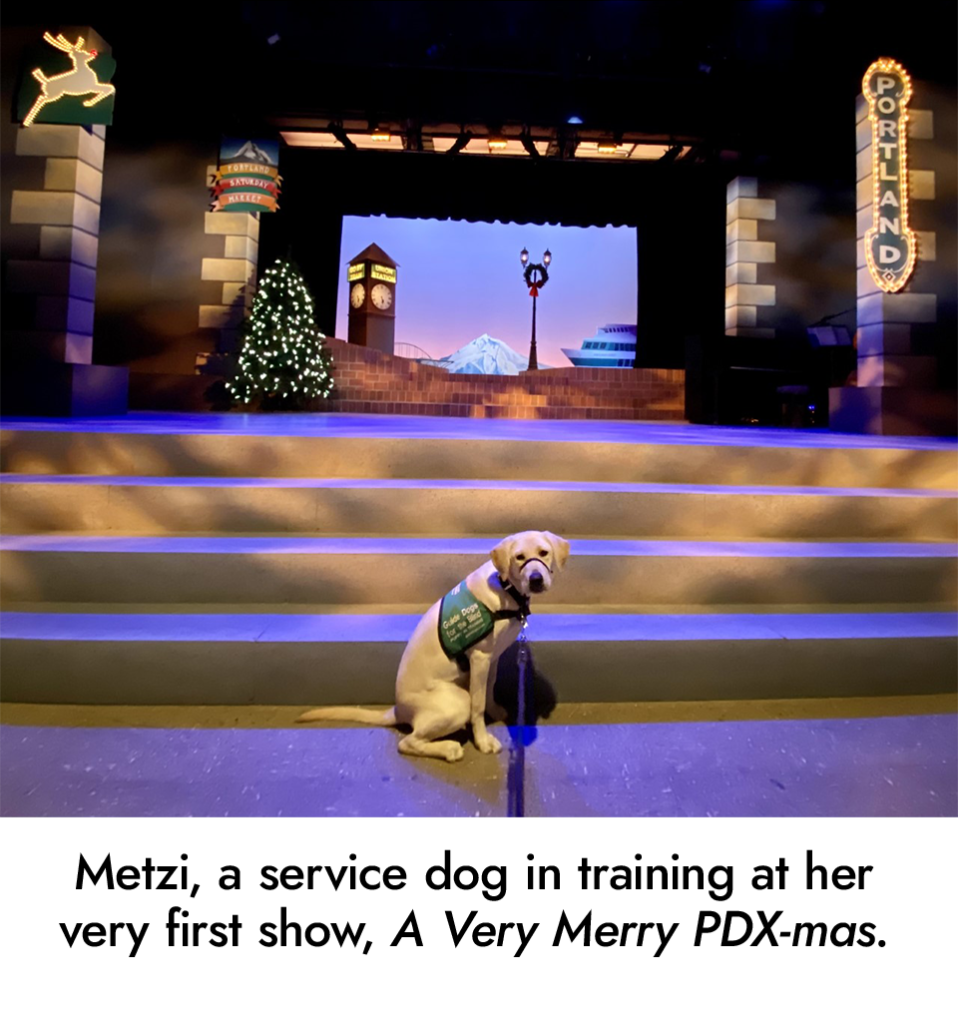 Brooke also keeps an eye out for additional opportunities to support patrons, and is currently working on a partnership with Guide Dogs for the Blind. Broadway Rose is planning to make dress rehearsals available by special invitation as a training opportunity for guide dogs. This would give guide dogs in training the opportunity for real world experience in situations with large crowds and tight quarters. Brooke is working on this project with Jenny Collins, a volunteer at Guide Dogs for the Blind.
"Attendance [for these dogs] at cultural events such as live theater is an important piece of preparation for their future job when later paired with an individual who is blind or has low vision," said Jenny. "It's so important for them to have these opportunities and I love Broadway Rose's commitment to accessibility."
Contact Brooke with accessibility questions at brooke@broadwayrose.org.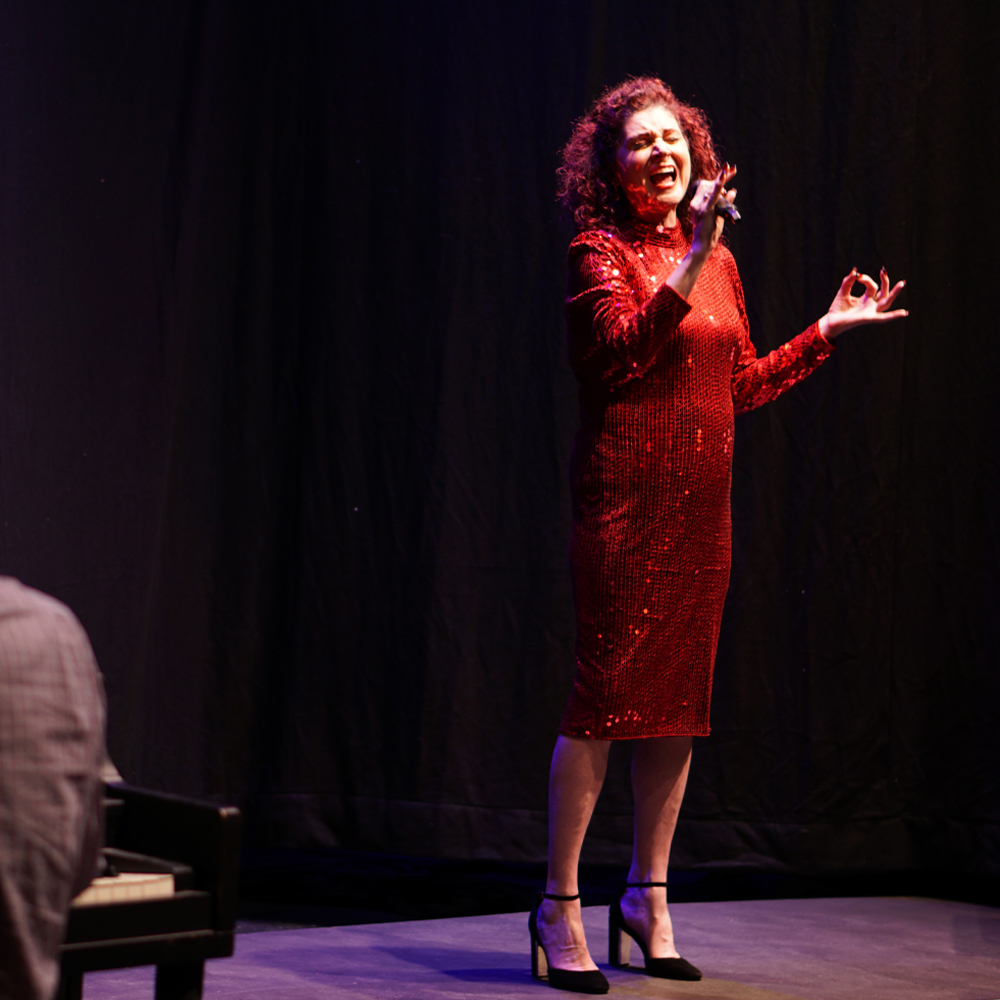 Lisamarie Harrison performing in our 2022 fall cabaret.
Featured Event
COME SEE A CABARET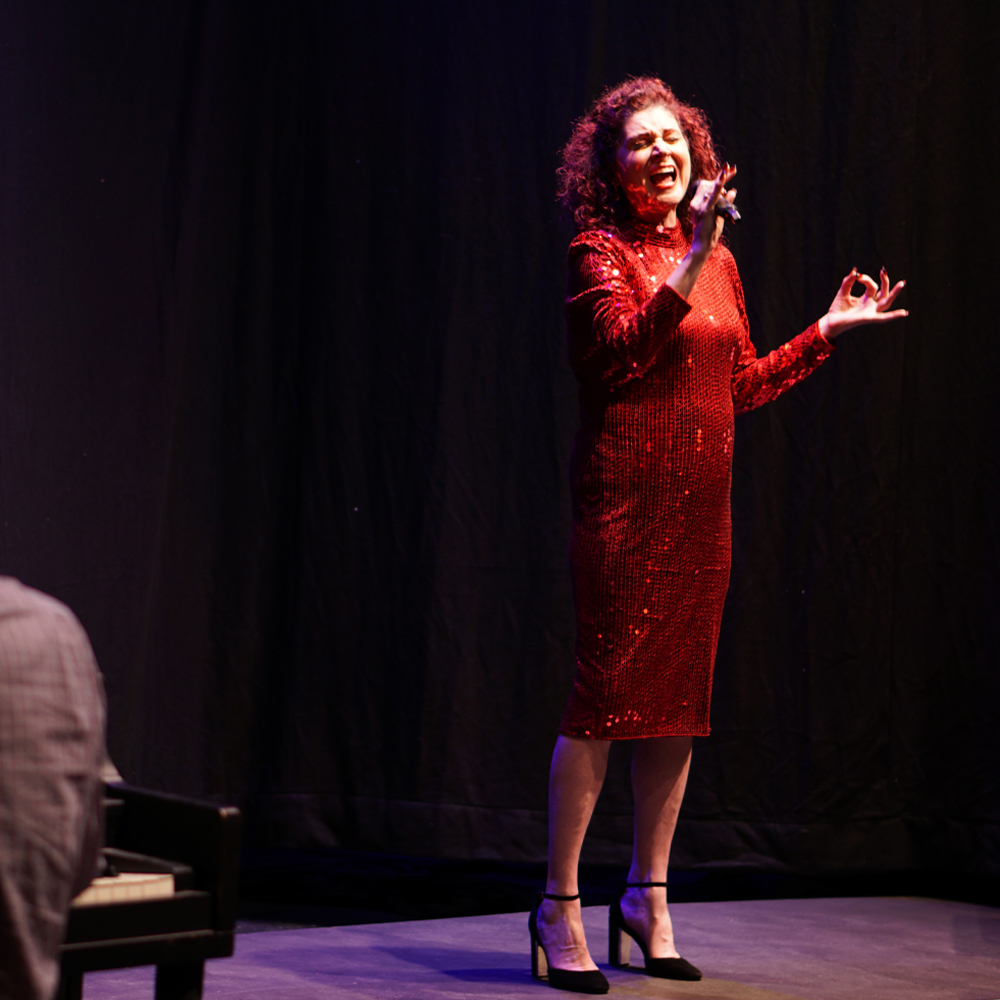 Lisamarie Harrison performing in our 2022 fall cabaret.
Broadway Rose is looking forward to hosting our Stupid Cupid Cabaret this February, the first of series of cabaret events available this year.
Among musical theatre experiences, cabarets are unique. These musical performances offer an intimate shared experience between artist and audience, where the shared enjoyment of music and humor creates a rapport. Performers are free to interpret their songs without the dictates of a character or script to decide style, and the audience is treated to a wide variety of material in one night.
Read more...
"Some of my best memories from living in New York City were going to different restaurants that had cabaret performances, and listening to the singers and getting up myself and singing," said Sharon Maroney, producing artistic director.
Portland does not offer many opportunities to enjoy cabarets, and we'd love to support this artistic style and share one of our favorite forms of entertainment. This year we're planning to feature some of the amazing talent we've had the pleasure to work with at upcoming cabarets, and create opportunities for patrons to enjoy singers we've loved for years.
"I'm hoping that people come and have a great time, and that it becomes something that people look forward to," said Sharon.
Don't miss our Stupid Cupid Cabaret coming up February 6, and keep an eye out for future performances.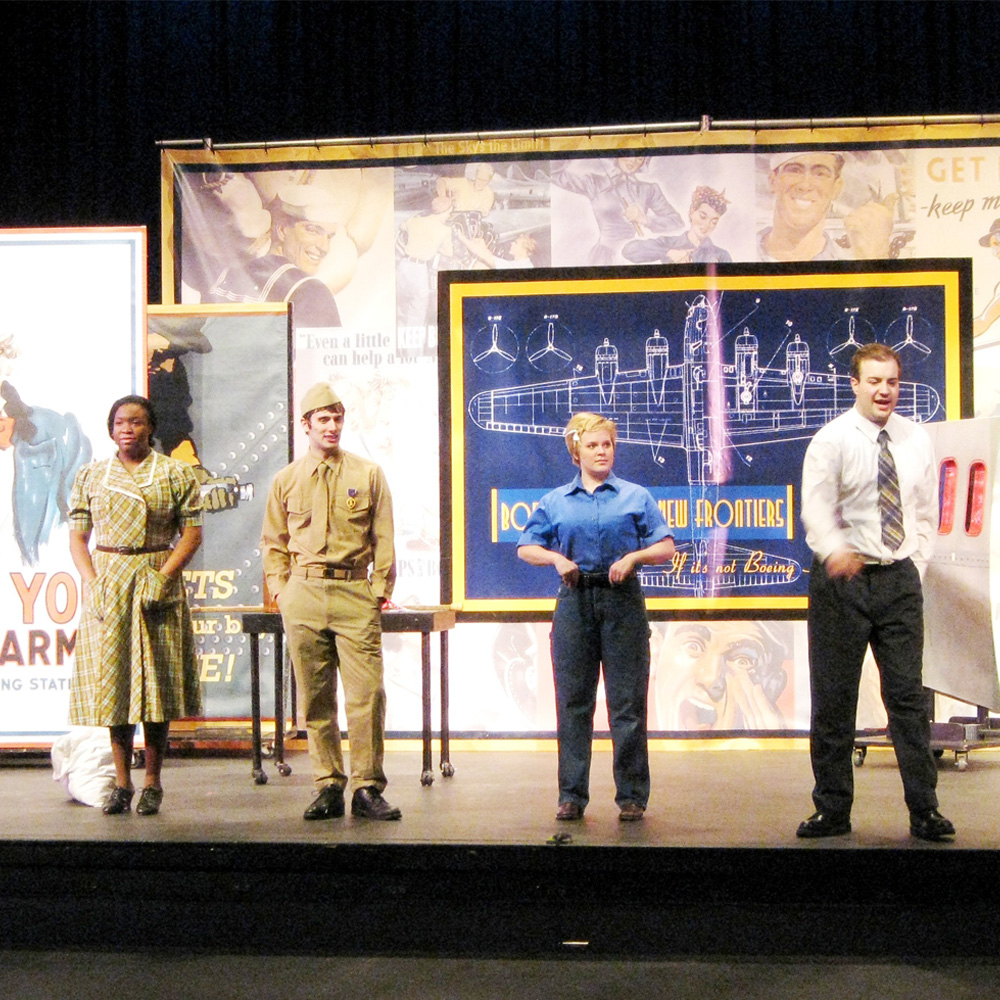 Past performance of the Fifth Avenue touring company.
Giving Back
THE FIFTH AVENUE THEATRE TOURING COMPANY RETURNS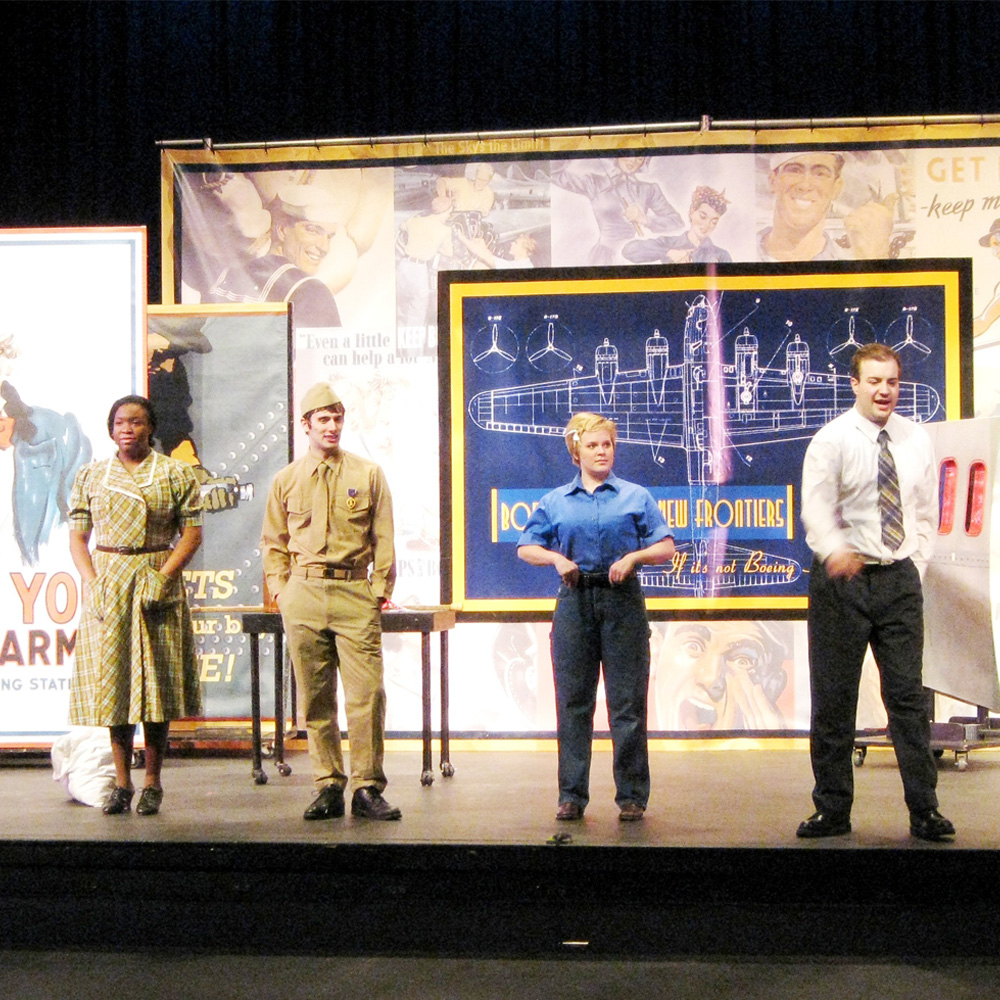 5th Avenue Theatre performers at the Broadway Rose New Stage.
Since 2004, Broadway Rose has raised funds and partnered with Seattle's Fifth Avenue Theatre to provide free musical theatre productions to children in the Tigard-Tualatin School District, including students from Title I schools. For some students, this event will be their first chance to experience live theatre.
Read more...
The 5th's Touring Company has been around since 1994, offering educational musicals in schools and community centers throughout the Pacific Northwest. The musicals promote curriculum needs, and additional supplemental materials are made available to the classes. This year, they will be featuring the latest production in the Northwest Bookshelf series, a 50-minute musical based on a selection of stories from Pacific Northwest authors, followed by a 10-minute question and answer session with the cast.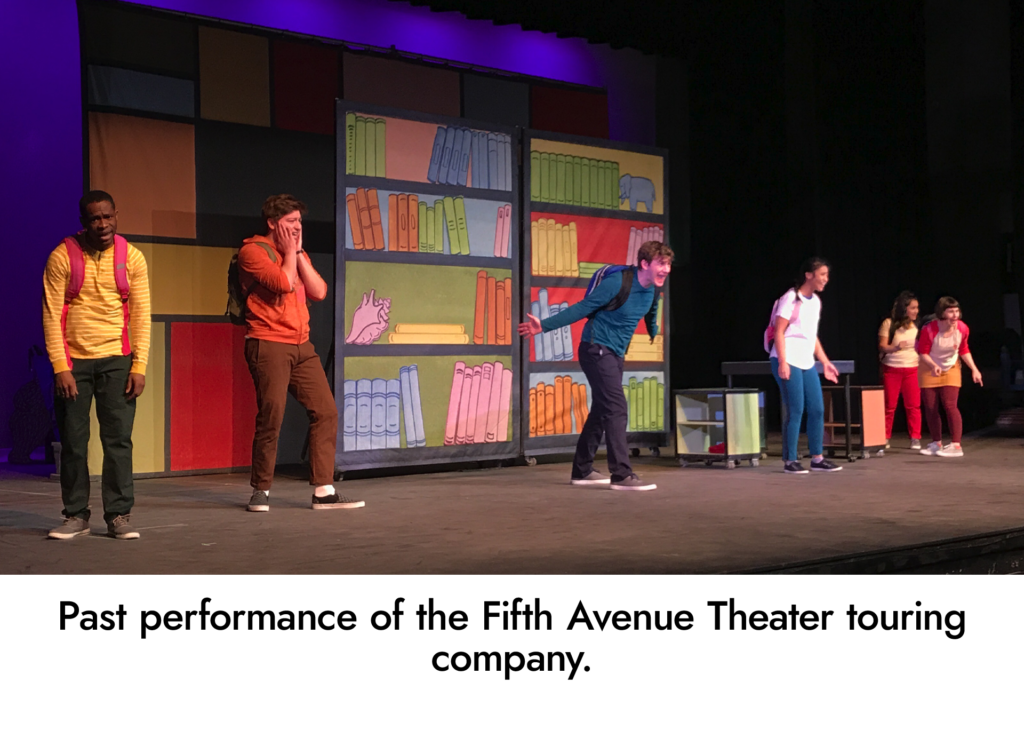 "It's just a really great program that exposes kids to theatre for free," said Amaya Santamaría, education and community engagement manager at Broadway Rose.
After a two year hiatus, we are proud to bring back our Fifth Avenue program this March. This year the program will serve students from Charles F Tigard Elementary, with 480 local students receiving the chance to experience live theatre.
Broadway Rose believes it is important to expose children to theatre at a young age in order to build an appreciation for the arts, encourage future participation and support, and spark creativity. We are excited to share this experience once again with our local communities.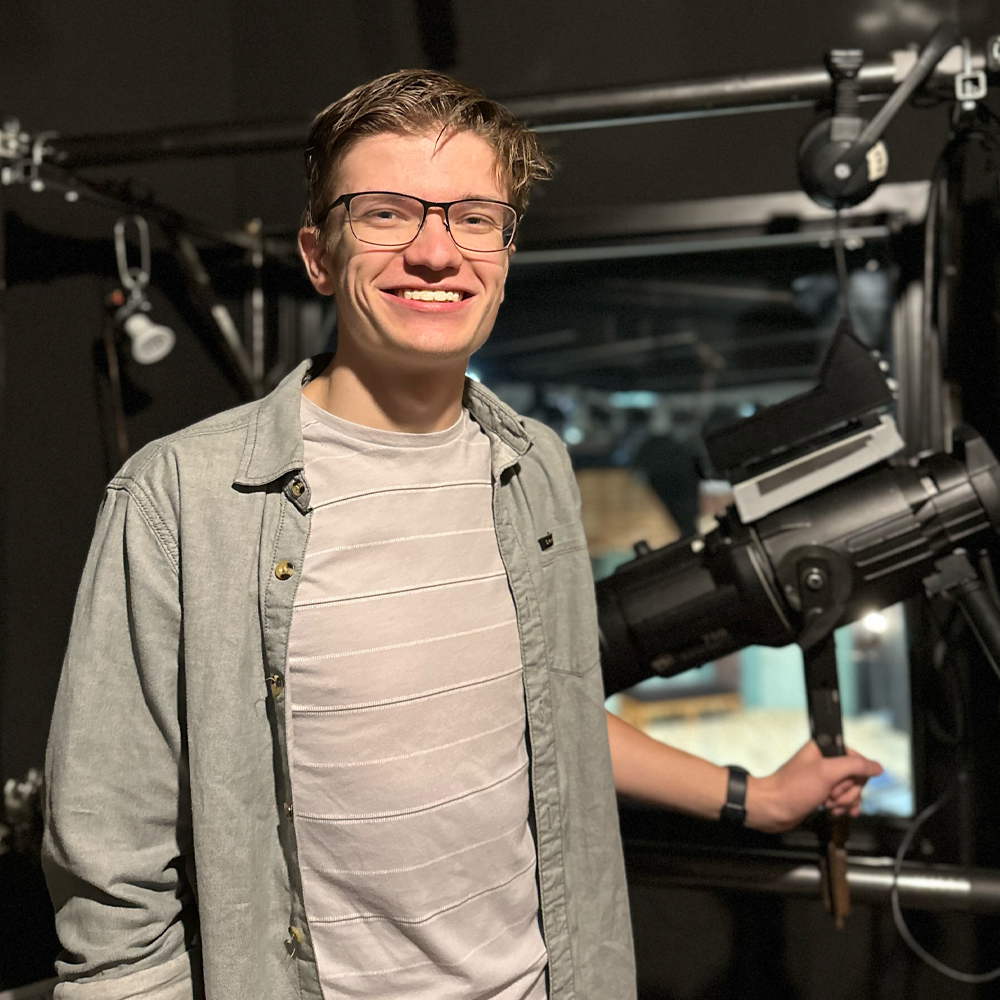 Nathan Thrasher, veteran intern at Broadway Rose.
Backstage Pass
INTERVIEW WITH AN INTERN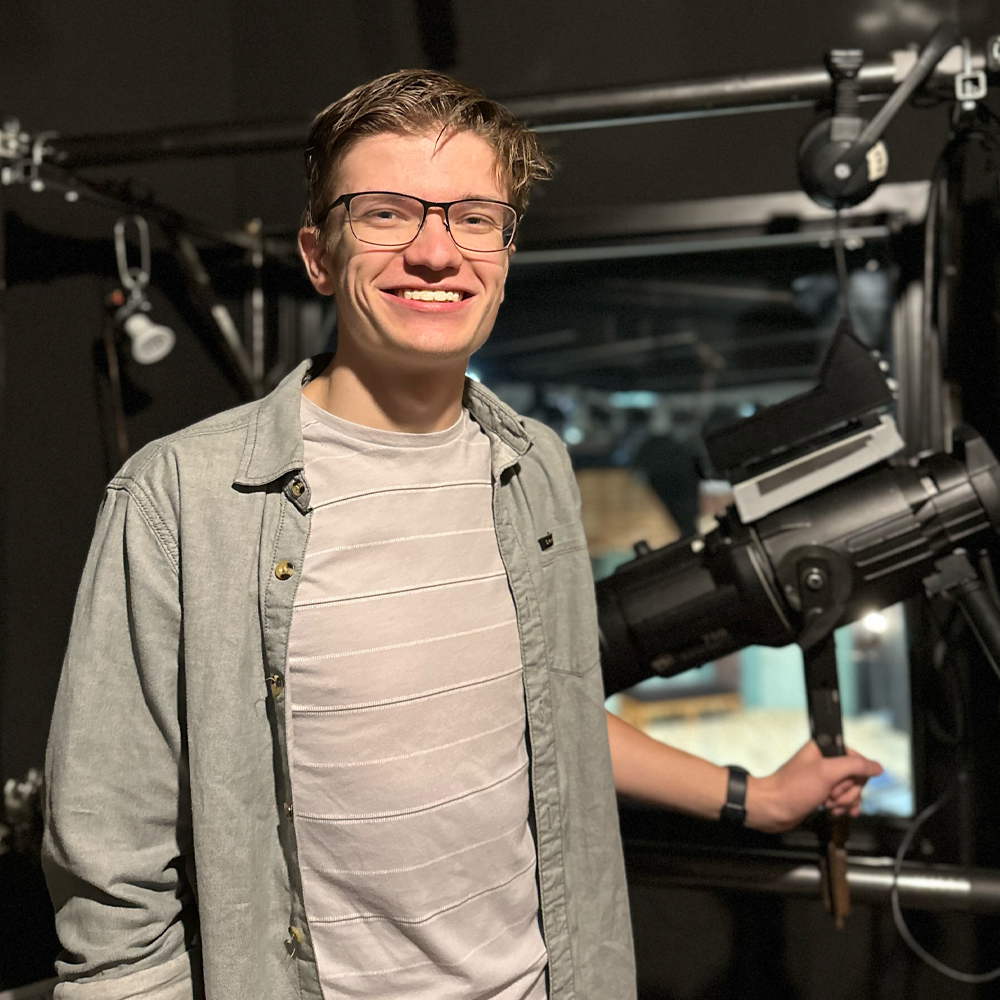 Nathan Thrasher, veteran intern at Broadway Rose.
Broadway Rose's technical internship program for high school and college students offers students a fantastic chance to learn theatre skills on the job. The theater has provided a technical internship program for students since the organization's inception in 1992. These paid internships feature a variety of roles, including assistant stage manager, deckhand, spotlight operator, electrician, carpenter, lighting and props design, and costume prep and construction, to name a few!
Broadway Rose will have up to 93 intern positions available this year. The number of interns assigned to a show ranges widely, with larger productions like Rodger + Hammerstein's Cinderella requiring 23 interns, while Ain't Misbehavin', a much smaller production, will only list 6 interns.
Read more...
Liz Carlson, assistant production manager at Broadway Rose, has worked extensively with our technical internship program, managing many of the intern interviews and assignments. "Theatre is wonderful and joyful work, but it's also very hard work and time-consuming," said Liz. "I feel like our internship program really gives a good idea of what it is like to be a professional in the industry."
Meet Nathan Thrasher, Veteran Intern
Nathan Thrasher finished two internships with Broadway Rose in 2022, first serving as an assistant lighting designer for You're a Good Man, Charlie Brown, and then as lighting designer for the teen production Disney's Newsies.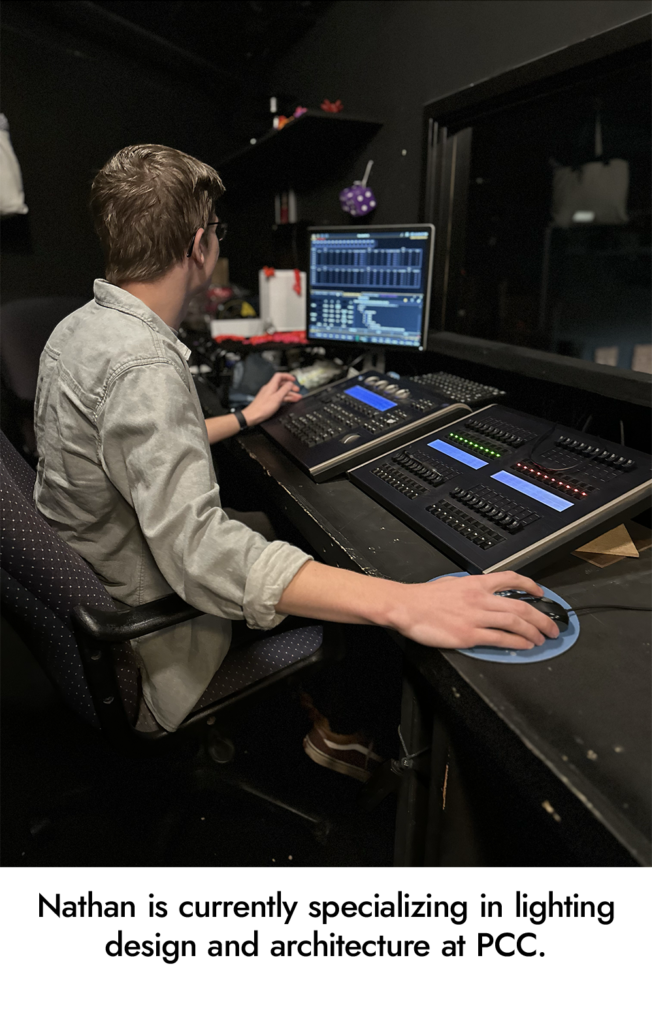 Nathan was in his senior year of high school when he heard about the Broadway Rose technical internship program. While Nathan had originally planned on majoring in biology at Oregon State University, his work in theatre throughout high school caused him to reconsider. He decided to apply for an internship as a way to assess theatre as a career. Nathan was accepted as an assistant lighting designer on You're a Good Man, Charlie Brown and spent three weeks on assignment, attending each dress rehearsal and all designer runs while working with lighting designer Kristeen Willis.
Working with Kristeen was a wonderful experience for Nathan. "She's been in the industry for a really long time and had a lot of valuable information," said Nathan. "Kristeen was a great first contact with working in more of a professional environment, and getting that connection."
Nathan then took the concepts he had learned on his first production and applied them to his second internship experience, taking on the role of lighting designer for teen production Disney's Newsies. Nathan studied the script intensively to create the lighting design for the show, relying on Liz Carlson and technical director Phil McBeth for mentorship throughout the experience. Working as a lighting designer on a production was a fulfilling experience for Nathan, giving him experience in creative work while helping him to answer additional questions on the pursuit of theatre as a career.
After Nathan's experiences as an intern at Broadway Rose, he decided to switch directions, and is currently specializing in lighting design and architecture at Portland Community College, and planning to transfer to an arts school in the future.
When asked what his advice would be for others considering an internship, Nathan was quick to respond. "Definitely do it, it's great to get your foot in the door and see if it's even something that you like," said Nathan. "Be open to learning as many different things as possible."
In addition to providing experience on the job, internships open doors to many participants, giving them connections within the industry. "It's a great way of providing opportunities for them to be seen," said Liz Carlson. "When they get out of college and step out into the world they already have some contacts that they can start out their career with."
Nathan agreed, noting that internships gave him and others so many opportunities to meet new people, make connections, and secure future work. "Now I'm working at places like Portland Center Stage, all because of these internships," said Nathan.
Featured Event
ONCE UPON A TIME GALA
As the time for our annual fundraising fete fast approaches, Broadway Rose would like to reveal a little of the magic happening behind the scenes in preparation for our most enchanting event of the year, the Once Upon a Time gala.
"It's going to be incredibly immersive," said Holly Richards, Broadway Rose development manager.
Read more...
Broadway Rose is partnering with the talented James Sharinghousen, whom you all know as Charlie Brown from this last summer's production of You're a Good Man, Charlie Brown. When not on stage, James is a designer with credits including the bewitching scenes at the Festival of Trees and the magnificent Christmas decor at Washington Square. "He is helping us take the storybook theme to heights we would never have imagined possible," Holly added. "From the moment you step in the door you are going to be transported to a different place."
Our Once Upon a Time gala offers each visitor entry into a magical woodland filled with nods to favorite childhood fairytales, topped off by a premiere performance of Happily Ever After, an original musical revue by Dan Murphy. Happily Ever After features songs from beloved shows and magical performances by Broadway Rose favorites Joe Theissen, Malia Tippets, Kimo Camat, and Blythe Woodland, with musical direction by Darcy White.
Attendees will also enjoy delicious hors d'oeuvres by Delilah's Catering paired with wine and fairytale-themed mocktails, while bidding on select experiences that include:
•  A walk-on role in Rodger + Hammerstein's magical Cinderella
•  A backstage pass to a performance of Joseph and the Amazing Technicolor Dreamcoat
•  A series of Director's Dinners featuring gourmet eats, including: an evening with Dan Murphy, the director and choreographer of Joseph and the Technicolor Dreamcoat, hosted at Neil Kelly's expansive new kitchen; a soiree aboard a scenic houseboat with Lyn Cramer, the director and choreographer of Rodger + Hammerstein's Cinderella; and a swinging cocktail party with special guest Eugene Hill, director and choreographer of Ain't Misbehavin'
Some additional experiences up for bid will include a magical princess party with character performers, a luxury tour through Oregon's celebrated wine country, courtside tickets to see the Blazers, and an ornate costume trunk, filled with especially commissioned exquisite children's costumes, complete with tickets to the Enchanted Forest!
We hope you'll join us March 18 for a fantastical evening in the forest with your friends at Broadway Rose. Visit the gala event page for more details.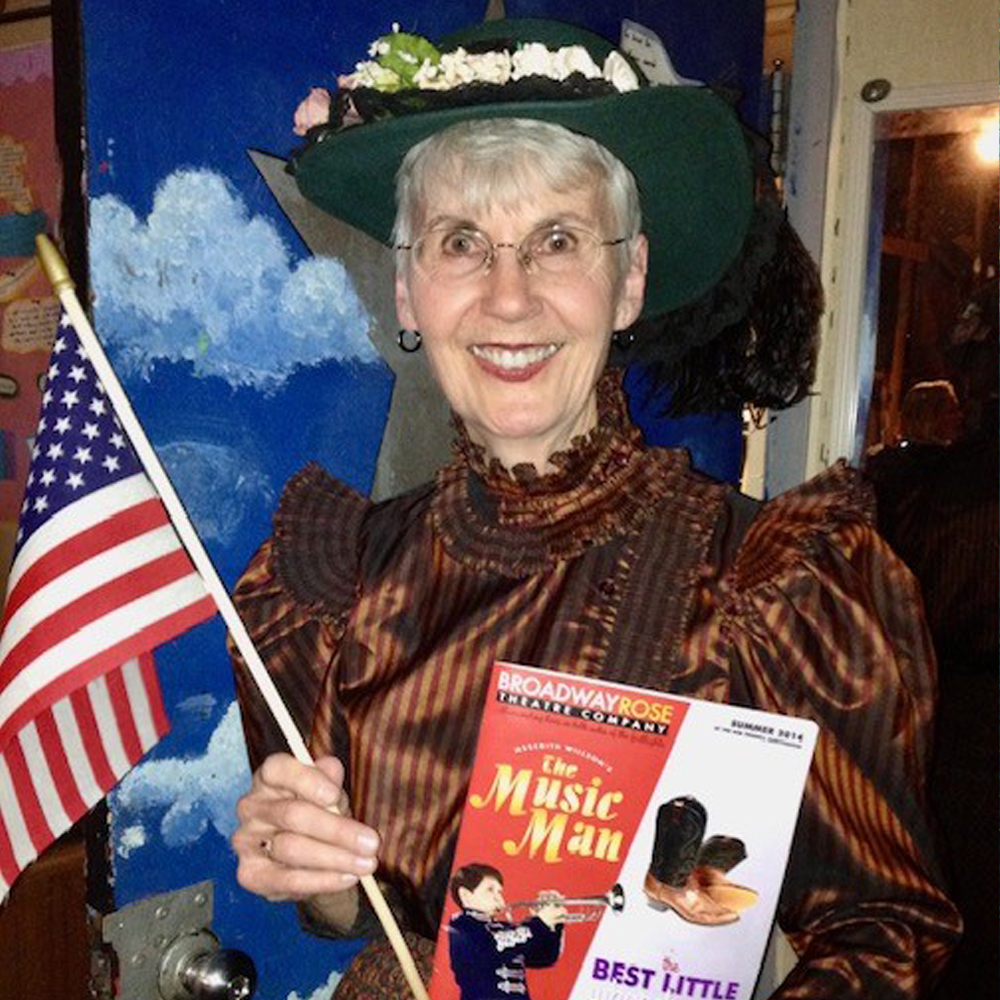 Bonnie in costume for The Music Man.
Donor Spotlight
THE INCOMPARABLE BONNIE CONGER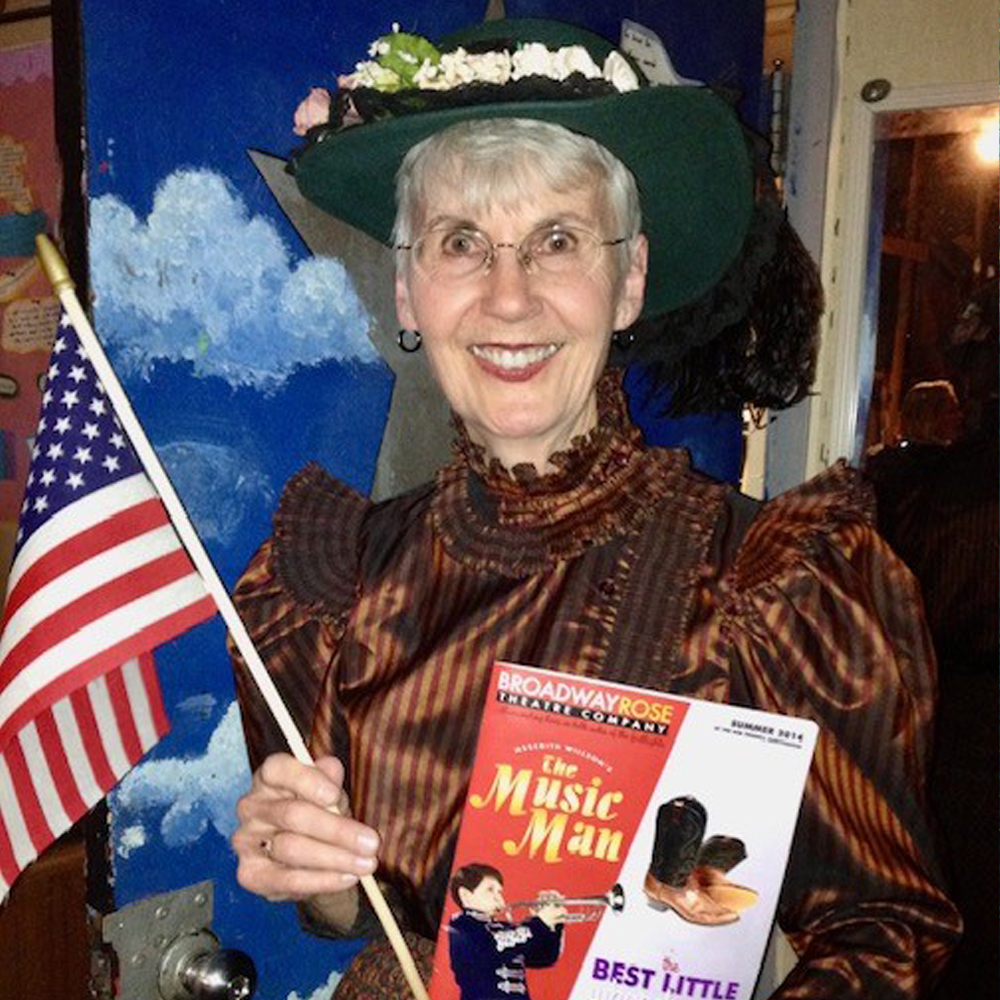 Bonnie in costume for The Music Man.
Bonnie Conger has been part of the Broadway Rose family for 20 years. Her staunch support of and generous donations to Broadway Rose have funded multiple projects over the years.
Bonnie first visited Broadway Rose with her husband Jon in 2003 for a production of How to Succeed in Business Without Really Trying. Appreciation for live theatre was something Bonnie and Jon shared, and it wasn't long before they became season ticket holders in 2007.
Read more...
After her husband passed away in 2011, Bonnie attended a fundraising event for sound and lighting. She learned that ticket sales cover just 60% of theatre operating costs, and thought, "Why can't I open up my purse strings now? I can do more." Bonnie's first major donation was in answer to that plea in October of 2014.
In 2016, Conrad Pearson, friend and financial advisor since 2004, asked Bonnie to join him as a title sponsor. Bonnie accepted, and continued to go above and beyond by sponsoring a total of six shows to date.
"Frankly, I can't sing, dance, act, or play a musical instrument," admitted Bonnie. "So my only way to support the arts is to donate. Broadway Rose brings me so much joy and happiness."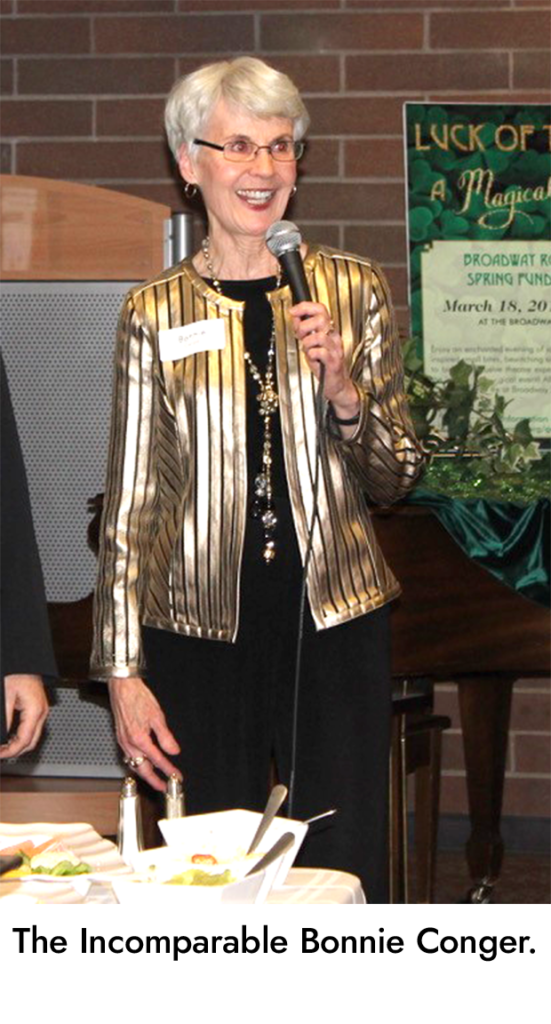 Broadway Rose isn't the only theater Bonnie supports; she is also a proud sponsor of Lakewood Theatre Company and Gallery Theater. "I do hope to inspire others to think about donating, well certainly to the Broadway Rose, but to other organizations and charities that are dear to their heart."
When asked about her favorite productions, Bonnie was quick to respond with My Fair Lady and The Music Man, as she experienced both productions onstage through walk-on parts secured with bids at Broadway Rose galas. Walk-on parts allow patrons to experience a few minutes onstage during a performance, as well as a costume fitting, rehearsal, and a chance to meet the actors.
In My Fair Lady Bonnie played the "lady in the flower shop," and was then able to watch the rest of the play in the wings. The next year, Bonnie signed up for The Music Man, which offered a slightly more involved role. She had to learn two songs and assorted dance steps, and would be escorted onstage and off by an actor—but in Bonnie's case, the actor forgot to escort her offstage, and she enjoyed a record 18 minutes of fame!
One of Bonnie's major delights available through her support of Broadway Rose has been learning more about what goes on behind the scenes. She has delved into as many backstage experiences as possible, shadowing Sharon Maroney while directing Oklahoma!, learning how sets are made, attending dinners with the director, and watching rehearsals, and traveling to New York City with Broadway Rose patrons for her third visit this year.
"My mission is to help make the world more loving, and I think Broadway Rose really does that," said Bonnie. "They truly bring a lot of pleasure and enjoyment to people."
We at Broadway Rose can never thank Bonnie enough for her support of musical theatre. Bonnie's commitment to giving has contributed to so many successes, and we look forward to seeing her in the audience at each production. Our many thanks, Bonnie, for your support!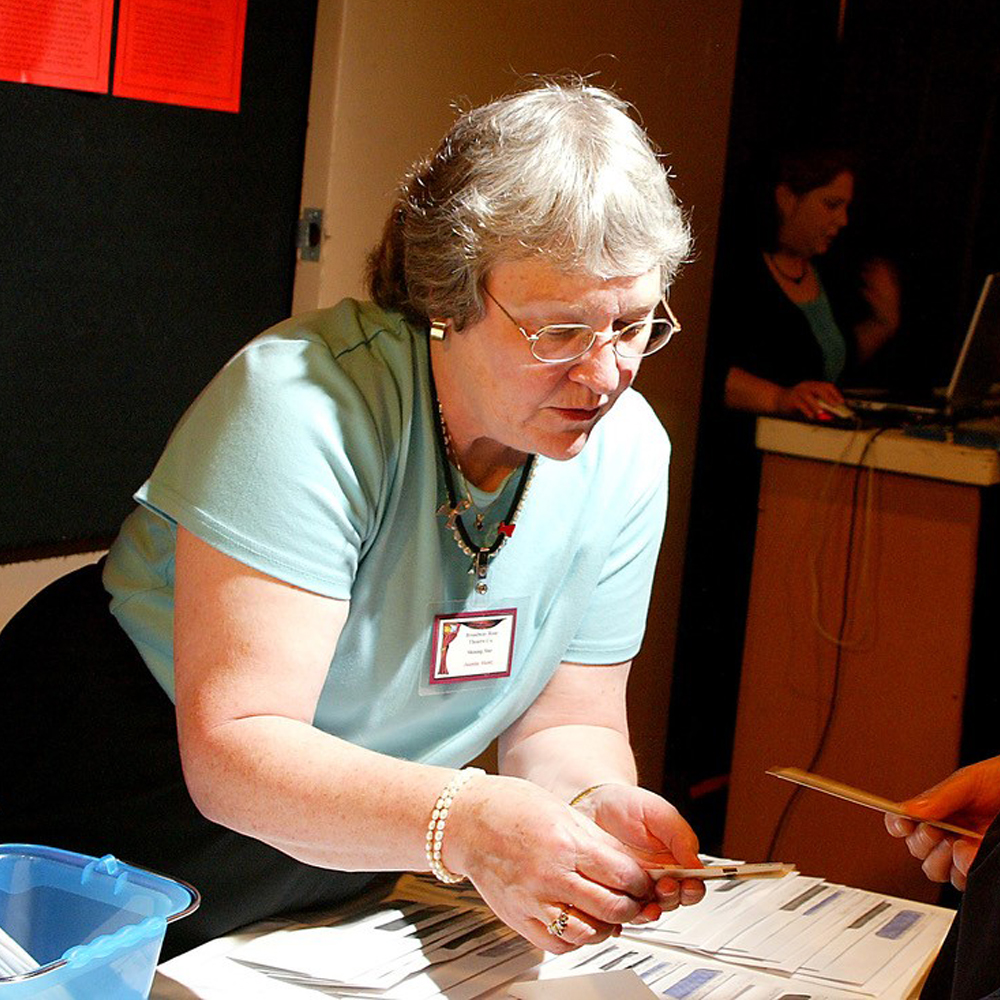 Juanita on the job at Broadway Rose.
Volunteer Tribute
JUANITA MUNTZ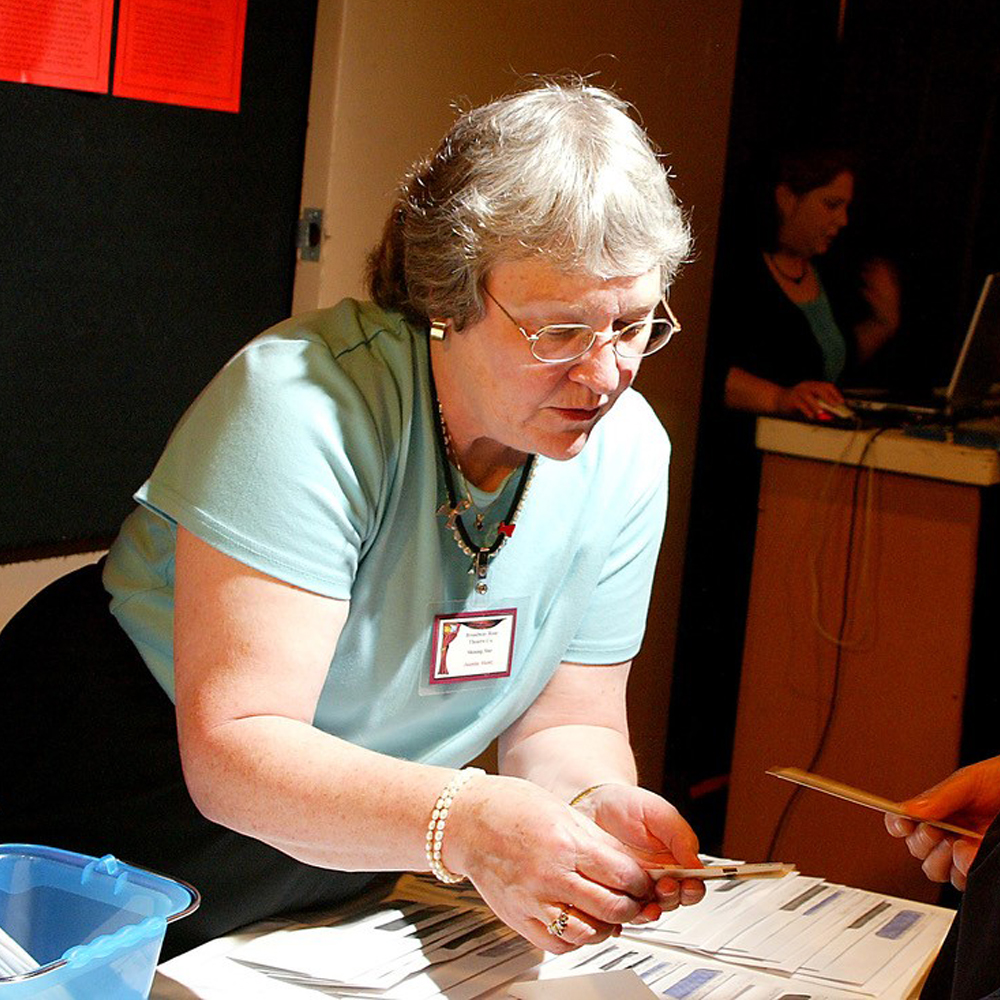 Juanita on the job at Broadway Rose.
Juanita Muntz has been donating her time as a volunteer with Broadway Rose since 1996. Her contributions as a volunteer have been many and varied, including offering medical support at the theater, ushering, house management, and coordinating the recycling efforts at the theater.
Juanita first heard about Broadway Rose when its 1992 opening was announced in the Tigard City newsletter.
"I've always enjoyed musicals, so that caught my interest," Juanita said.
Read more...
At the time, Juanita was already ushering for Portland'5 and volunteering at ART and other downtown theaters. As a longtime resident of Tigard, Juanita was excited to start experiencing theatre so close to home, and after she saw Sharon Maroney in Nunsense she was hooked. Juanita attended mainstage shows regularly and decided to start volunteering as an usher as well in 1996.
Juanita has also served time as both assistant and house manager for approximately 10 years, starting out in a volunteer capacity at the Deb Fennell Auditorium, until being hired on part-time as house manager at the New Stage. In addition to house management, Juanita, a registered nurse at the time, offered her expertise in areas of medical support, attending selected Saturday and Sunday matinees to provide back-up in case of potential mishaps. She also ensures first aid kits, AED units, and assistive listening devices are stocked and functioning.
Over the years with Broadway Rose, Juanita has also contributed in many unexpected capacities.
When renovations were underway for the New Stage building in 2008, Juanita spent more than one Saturday morning at work with other volunteers shoveling out construction dirt in order to save time for the hired construction crew. "So I have sweat equity in this building," Juanita laughed.
The New Stage opened with a holiday show, and Tigard was hit by a winter storm. Juanita and another volunteer shoveled a foot of snow away from the lobby doors before the performance for the 36 people who managed to make it into the theater, and then 15 minutes before the show ended shoveled the newly accumulated snow away from the doors so that everybody could get back out!
One of Juanita's major contributions to the theater and the community has been her management of the Broadway Rose recycling program. From bottles and cans, to boxes, plastics and bubble wrap—Juanita found ways to reuse it all, dropping off items at various recycling centers around town and even taking extra plastics home to clean up before donating them. During the 20-year period Juanita managed the recycling program at Broadway Rose, she spent an average of one day a week on recycling efforts alone—that calculates out to a whopping 8,320 hours of service to Broadway Rose and to the community!
Even while at times working three different part-time jobs, Juanita still continued to contribute in various ways at the theater. With such dedication, it's no surprise that Juanita was awarded Volunteer Of The Decade at the 2020 BroadwayWorld Portland Awards.
"This has been an important part of my life. I have enjoyed working with the people who are here," Juanita said. "So it has just been a very positive experience."
While Juanita recently moved away from Tigard and plans to "retire" from some of her volunteer projects, she remains committed to Broadway Rose. In addition to her generous contributions as a volunteer, Juanita also remains one of our most dedicated donors and longest season subscribers. We at Broadway Rose are so grateful to Juanita for the time, effort, and heart she has contributed to Broadway Rose, and we're so glad Juanita has found it meaningful to contribute her valuable time to support musical theatre.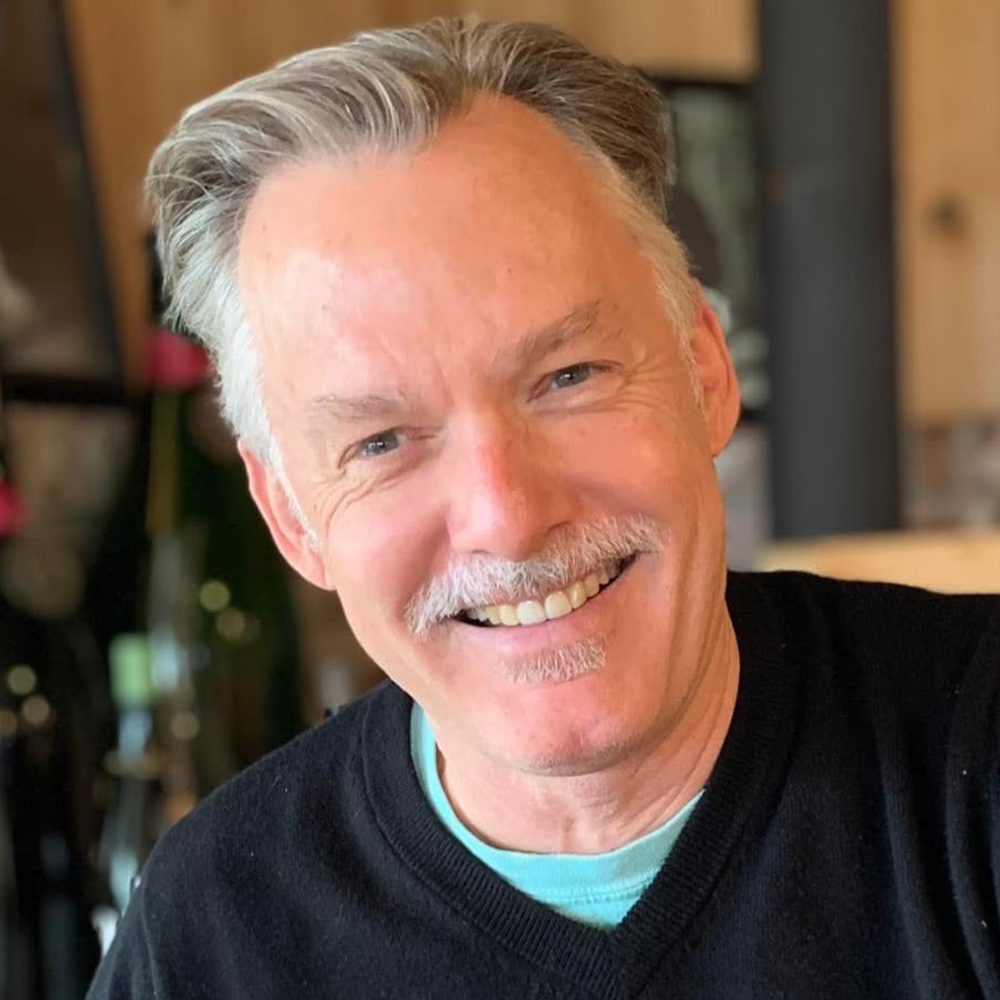 Scenic designer Larry Larsen.
Meet the Artist
LARRY LARSEN, SCENIC DESIGNER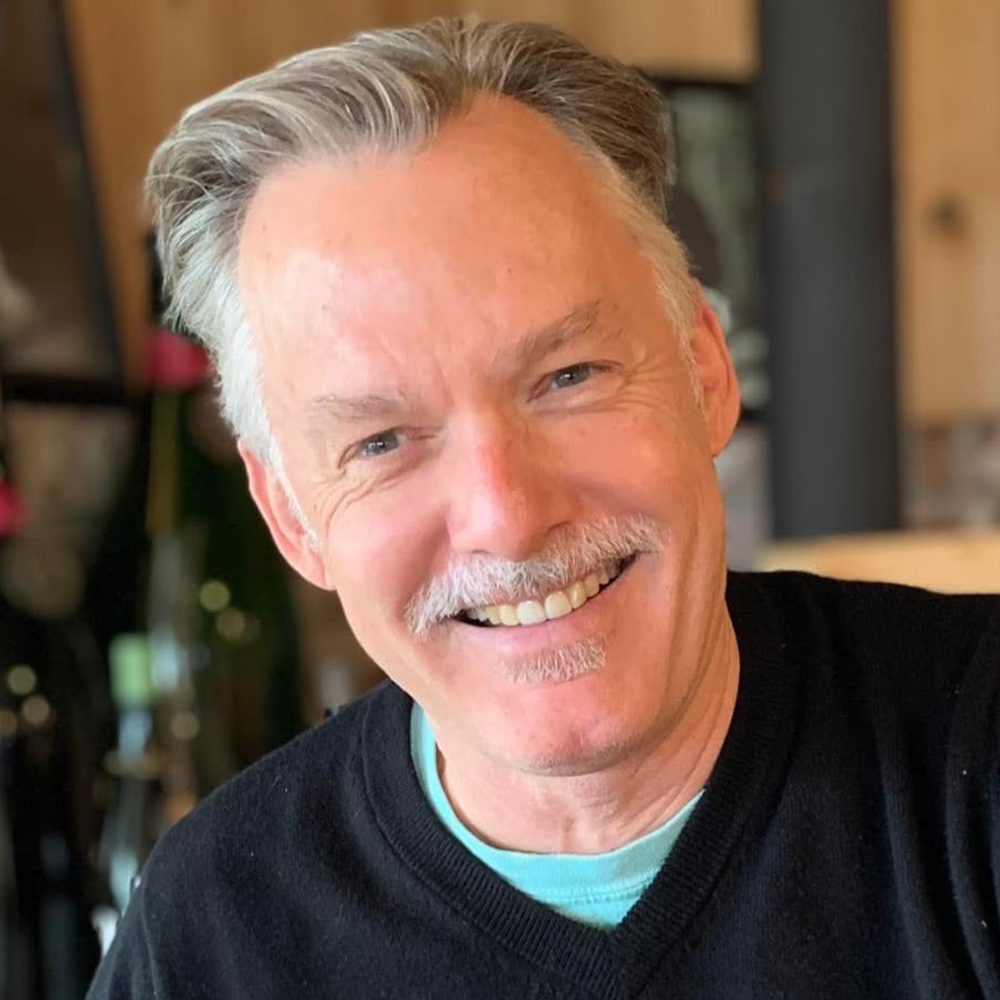 Scenic designer Larry Larsen.
The action of Snapshots: A Musical Scrapbook takes place within just one setting, making the design of the set itself extremely important. Staffer Dani Wright sat down with Larry Larsen, the scenic designer for Snapshots, for a quick Q&A behind the scenes:
Read more...
Where do you start when designing a set?
With musicals, the first question I ask is, "Where's the orchestra?" When I did Nunsense, the orchestra was on stage, part of the action. In Company, the orchestra was not visible. Another question I ask is, "What is the level of reality?" Snapshots is fairly realistic. Adrift in Macao was very silly, and so the set was a much more stylized theatrical world as opposed to a real place, real world type situation.
What's unique about Snapshots set designs?
So much of this show was based on my grandparents' attic. Half of the attic had been finished, and then the other half was left unfinished, full of old stuff, and it was kinda cool to rummage through it as a kid. So there was the idea within the set design of the unfinished component as well as the finished, as in the Snapshots story, where pieces of these peoples' lives had been left unfinished. I also think there are things that designers sometimes subconsciously do to convey the story. For example, the Snapshots set is placed at an angle to the audience. I knew it didn't want to be straight on, it needed to be off-kilter, off-centered – just like these peoples' lives were at odds, to create some sort of visual tension.
What was your most challenging set design?
There was a show I did for Third Rail Repertory Theatre years ago, a new play called Collapse about a man who had been in a car during the bridge collapse in Minneapolis over the Mississippi River. I came up with the idea that the set would be a series of fragments of imploding bridge, with the floor a series of asphalt fragments falling apart, and then two bridge structures flying apart into space. Sets like these are the most challenging because you're trying to find a balance between what is visually engaging without distracting from the story. A set should support the story without getting into the way of the actors trying to tell the story.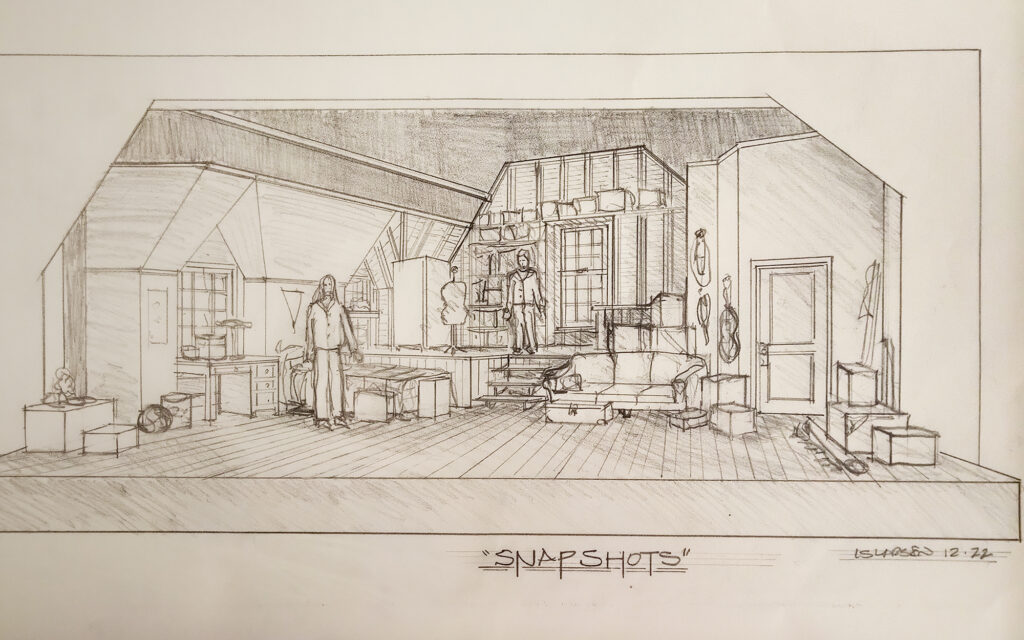 What are your dream shows?
Gypsy and Sunday in the Park with George. Gypsy is one of those classically formatted, complex musicals, where I think you'd probably have seven or eight different settings that need to transform and appear. Sunday in the Park with George is one of those really hard to do musicals that is about turning the stage into this famous oil painting by Georges Seurat.
Do you have any advice for designers starting out?
My advice is to always get to know the new young directors in town. Figure out how to build that professional network, the theater community around where you want to work. Even if you don't get that first job or end up doing something else, like building props, painting, etc. – even being involved in a small way in a production helps build those connections, which is important.
Larry Larsen's upcoming projects include set designs for The Wolves and Twelfth Night for the University of Portland, and The Magic Flute with Portland State University Opera.