Analog & Vinyl
Streaming July 16 – August 1, 2021
Enjoy the magic of theatre anywhere you can access the internet.  Rent the pre-recorded, fully staged production and stream it right to your computer, smartphone, or tablet. 
Harrison, an impassioned vintage record shop owner, is obsessed with LPs while hipster Rodeo Girl is obsessed with him. With the Melrose store about to go under, the two are visited by a mysterious stranger with a devilish offer that could change their young lives –­ but at what cost?
Featuring a smart, original score influenced by The Beatles, Elvis Costello, Ben Folds, Stephen Sondheim, and Brian Wilson, this offbeat musical comedy wraps big philosophical questions in a quirky little love story… think Faust meets Nora Ephron.
Streaming is made available through ShowTix4U, a web browser-based video platform.  Click here for information on system requirements.
If you are fully vaccinated and would like to attend a would like to attend a performance where masks are not required, please click here. If you would prefer to attend a distanced, masks-required performance click here. 
Title Sponsor


Show Sponsor


Streaming How-Tos
HOW DO I RENT?
Click RESERVE NOW to order your rental. Streaming begins July 16  and sales end August 1 at 4:00 p.m.

During the run purchase by 4:00 p.m. to watch the streaming production the same day. Orders placed after 4:00 p.m. will receive a rental code the next day. (Orders made in advance will receive their rental code 

on  

July

 16.)  

Each $25 rental is good for one household.
You may purchase multiple rental codes for friends and family.
Concession packages are available for purchase. Learn more.
HOW DO I WATCH?
You will receive an email from Tyler Kubat at the Broadway Rose box office. The email will contain a viewing link, individual rental code, and instructions on how to watch the production.

Advance orders will receive an email at 5:00 p.m. on June 16. During the run, orders placed before 4:00 p.m. will receive their rental code at 5:00 p.m. the same day; orders placed after 4:00 p.m. will receive their rental code the following day at 5:00 p.m.  

 

You can easily stream the production right to your computer, smartphone, or tablet. For instructions on how to watch the production on your TV, click here.

You will have until August 1 to begin watching the pre-recorded production. After entering your access code and beginning the video, you have 48 hours to view the show, and can stop, restart and re-watch multiple times within the 48-hour window.

Closed captions are available.
FAQ
How do I purchase multiple rental codes for friends and family?
First, select the number of rental codes you want to purchase. Then, on the Review Your Order page, enter your recipient's name and email address in the box with the heading "Additional Information?" We will send each recipient an email with the viewing link and rental code. If you do not provide recipient contact information, we will send you each rental code in a separate email. You can then forward these emails to your friends or family.
Can I use credit on my Broadway Rose account from a previously canceled production for a streaming production?
Yes! When purchasing online, if you are logged into your account, any available credit will be shown on the Checkout page. If you would like to apply the credit to your purchase click "Apply Credit" then "Finalize Order" at the bottom of the page. You will only be prompted to enter in a credit card if the available credit does not cover your purchase in full or if you are also making a donation.
You can also call the box office at (Monday – Friday, noon – 6:00 p.m.) and an associate will book your rental and let you know how much credit remains on your account.
Is the show live?
The production is pre-recorded, so you can watch the show at a time that is convenient for you.
Takeout Concessions
During the run of Analog & Vinyl enjoy one of our special takeout concession totes! They are the perfect accompaniment to the show, as well as a terrific way to support the theatre while our seats are empty.
Concessions Tote – $25
Includes your choice of a bottle of wine or four bottles of beer listed below, hot cocoa mix with mini marshmallows, microwave popcorn, four Spokandy truffles, a Broadway Rose mug and two collector's cups.
Wine selection:
Ile de Conas Rouge Souplesse – a fruit-forward red blend from France. Dark fruits, chocolate, licorice, and subtle spices.
Pra Vinera Pinot Noir – the name means "Field of Vines." A soft, balanced wine with low acidity and vanilla and cherry notes.
Eola Hills Pinot Gris – smooth and slightly tart, somewhat dry. Hints of pear and cinnamon. Made in Oregon.
Rebuttel Chardonnay – a full-bodied, buttery wine, with strong hints of apple and pear.

Beer selection: 
Widmer Brothers Upheaval IPA
Widmer Brothers Drop Top Amber  
HOW TO ORDER 
Email Managing Director Dan Murphy at dan@broadwayrose.org

 

or call 503.603.9862.

Payment may be done by phone or at the time of pickup. Do not email credit card information.

Totes will be available to pick up

by appointment only

at the Broadway Rose New Stage, Monday – Friday, 10:00 a.m. – 4:00 p.

m.

Must be 21 or older.

IDs will be checked at pickup.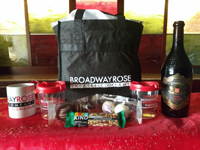 Concessions tote with wine