Loch Lomond • September 30 – October 24, 2021
A message on safety:  Per Oregon's indoor mask requirement, all guests and staff must wear a mask in the theater. In addition, Broadway Rose is requiring proof of full COVID-19 vaccination OR proof of a negative COVID-19 test within 72 hours of the performance for anyone not vaccinated, including children under the age of 12 and those who are unvaccinated due to medical condition or religious belief. Proof of vaccination or negative COVID-19 test along with photo identification will be checked at the door prior to entry. Our artists have been vaccinated and actors are not required to wear masks while performing. To learn more about Broadway Rose's extended safety measures click here.
Set in the Scottish Highlands during the Jacobite uprising of 1745, the new musical Loch Lomond brings to life a legend behind the famous lyrics, "You take the high road and I'll take the low road…" Cast into an English prison with no hope of escape, brothers Lyle and James confront the hopes, lies, losses, and loves that led them to this point, remember the women they left behind, and reckon with the ultimate choice that will carry them home.
Traditional Scottish folk ballads and Celtic-inspired contemporary music infuse this gripping, intimate story of love and sacrifice during one of history's most infamous rebellions.
Audience discretion is advised. Content Advisories.
Directed by ISAAC LAMB
Music Director BENJAMIN QUINTEL
Book and Lyrics by MAGGIE HERSKOWITZ
Music by NEIL DOUGLAS REILLY
Performances held at the Broadway Rose New Stage, 12850 SW Grant Avenue, Tigard, OR

Show Dates
Thursday, September 30, 7:30 p.m. — PREVIEW
Friday, October 1, 7:30 p.m.  — OPENING NIGHT
Saturday, October 2, 7:30 p.m.
Sunday, October 3, 2:00 p.m.
Thursday, October 7, 7:30 p.m.
Friday, October 8, 7:30 p.m.
Saturday, October 9, 2:00 p.m. — Post-show talk back
Saturday, October 9, 7:30 p.m.
Sunday, October 10, 2:00 p.m. — Limited Availability
Thursday, October 14, 2:00 p.m.
Thursday, October 14, 7:30 p.m.— Limited Availability
Friday, October 15, 7:30 p.m.
Saturday, October 16, 2:00 p.m.
Saturday, October 16, 7:30 p.m.
Sunday, October 17, 2:00 p.m.— SOLD OUT

Thursday, October 21, 7:30 p.m.— Limited Availability
Friday, October 22, 7:30 p.m.— Limited Availability
Saturday, October 23, 2:00 p.m.— Limited Availability
Saturday, October 23, 7:30 p.m.— Limited Availability
Sunday, October 24, 2:00 p.m.— SOLD OUT
Cast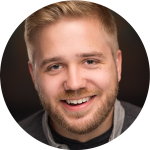 Benjamin Tissell as Lyle
Ben is a Portland-based actor and musician, last seen at Broadway Rose in the 2018 production of Ordinary Days. Locally, he has also performed at Portland Center Stage at the Armory, Third Rail Repertory, Portland Playhouse, Lakewood Theatre Company, Pixie Dust Productions, and others. Ben is a frequent guest director at local high schools and produces a few shows a year with his own small company, Outer East Arthouse. An avid songwriter, Ben's folky original music can be found on Spotify and iTunes.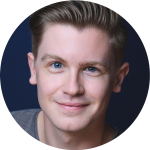 Colin Stephen Kane as James
Colin was last seen at Broadway Rose as Jerry Jessup in Up and Away, as well as Man 2 in It Happened One Christmas, Eddie in Mamma Mia!, and Lucas in The Addams Family. Local credits include Snail in A Year with Frog and Toad at Oregon Children's Theatre (Drammy Award), Brad in The Rocky Horror Show at Lakewood Theatre Company, and Doody in Grease at Temple Theatre. He has also performed for triangle productions!, Enlightened Theatrics, Stumptown Stages, and Live On Stage. Colin is a graduate of Portland State University.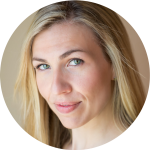 Danielle Valentine as Elspeth
A native Oregonian, Danielle is excited to be back for her fifth production at Broadway Rose. This summer she enjoyed commercial fishing for salmon in Alaska for six weeks and is thrilled to be back to theatre in person. Danielle holds a degree in music performance which carries over on stage and in her passion for working with youth in music and theatre.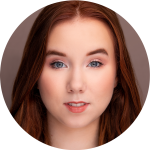 Hannah Lauren Wilson as Ailey
Hannah [she/her] could not be more grateful to be back on stage after the toughest year. She is an NYC-based actor and singer and a B.F.A. musical theatre graduate from Coastal Carolina University. Born and raised in the Portland area, Hannah has been working as an actor for 13 years. You may have seen her in Broadway Rose's productions of Gypsy  (Agnes) or Snow White  (Lyndra/Narrator). Some of her most recent Portland credits have been through triangle productions!, including Blood Brothers  (Linda),  Avenue Q  (Kate Monster),  Heathers  (Heather McNamara), and Liza! Liza! Liza!  (Young Liza Minnelli). Some other favorite Portland shows include A Midsummer Night's Dream at Anonymous Theatre (Peaseblossom), Fiddler on The Roof at Portland Center Stage (Schprintze),  A Year with Frog and Toad  at Oregon Children's Theatre (Squirrel/Mole), and Parade at Staged! (Iola). Keep up with her on social media! Instagram/TikTok: @hannahlaurenwilson 
Creative
Directed by ISAAC LAMB
Assistant Director CHARLES GRANT
Music Direction by BENJAMIN QUINTEL
Set Design by ALEX MEYER
Light Design by CARL FABER
Costume Design by KIMBERLY HERGERT
Prop Design by ALEX MEYER
Sound Design by BRIAN KARL MOEN
Stage Manager JESSICA JUNOR
Musicians
Ben Quintel Piano
Zachary Stowell Drums
Amy Roesler Strings
Marc Grafe Reeds
Eric Toner Guitar
Production Photos
News, Reviews, and Buzz
Review: Loch Lomond at Broadway Rose
by Krista Garver
BroadwayWorld.com, Oct. 8, 2021
Loch Lomond will transport you to a different time and place and fill your heart with emotion — just the right kind of journey for this tentative time of re-gathering. Read more.
High roads, high notes
by Bennett Campbell Ferguson
Oregon ArtsWatch, Oct. 6, 021
Broadway Rose Theatre Company's new Loch Lomond is a majestic musical tragedy about love, obsessions, and duty…set largely in the Scottish Highlands during the Jacobite uprising of 1745, but it's less a history lesson than a meditation on marriage and brotherhood… Read more.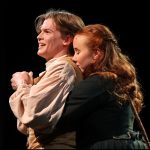 Loch Lomond
by Tina Arth
Westside Theatre Reviews, Oct. 5, 2021
…if you are thinking it's time for live theater again, this is a show you just cannot miss…Loch Lomond is a genuinely beautiful new play that should become a musical theater standard, and any future productions now have a lot to live up to. Read more.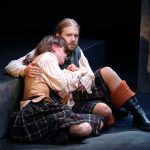 A Scottish legend comes to the stage
by Judy Nedry
JudyNedry.com, Oct. 6, 2021
Herskowitz has fashioned a compelling musical from the legend and the song, which was first published in 1841. Her characters are real, flawed, well-intentioned, and ultimately heroic. Read more.
Midday Cabaret
Hosted by Managing Director Dan Murphy, Midday Cabaret is a livestream series featuring interviews and performances with artists from current productions and throughout Broadway Rose's production history. On Wednesday, October 6 at 1 p.m. Colin Stephen Kane and Benjamin Tissell from Loch Lomond for a CAST EDITION cabaret. Watch now to get to know the artists, hear about making the show, and enjoy musical performances.