Analog & Vinyl
A devilishly fun musical comedy
Live performances begin July 8, 2021
Streaming July 16 – August 1, 2021
Fully Open Performances
100% capacity.
Proof of vaccination NOT required. Masks are recommended.
Click here for information on fully open performances.
Vaccinated Performances
Capacity limits vary.
Proof of full vaccination is required. Masks are recommended.
Click here for information on masks optional, vaccinated performances. 
Mask Required Performances
Limited tickets available.
Masks and physical distancing are required at all times regardless of vaccination status. Click here for information on masks required performances.
Performances held at the Broadway Rose New Stage, 12850 SW Grant Avenue, Tigard, OR 
Streaming Access Available July 16 – August 1, 2021  
Rent the pre-recorded, fully staged production and stream it right to your computer, smartphone, or tablet.
Click here for information on purchasing a streaming rental.  
 About the Show: Harrison, an impassioned vintage record shop owner, is obsessed with LPs while hipster Rodeo Girl is obsessed with him. With the Melrose store about to go under, the two are visited by a mysterious stranger with a devilish offer that could change their young lives –­ but at what cost? 
Featuring a smart, original score influenced by The Beatles, Elvis Costello, Ben Folds, Stephen Sondheim, and Brian Wilson, this offbeat musical comedy wraps big philosophical questions in a quirky little love story… think Faust meets Nora Ephron.
Directed by SHARON MARONEY 
Music Director JEFFREY CHILDS 
Music and Lyrics by PAUL GORDON
Book by MICHAEL BERRESSE and  PAUL GORDON
A  message on safety: Broadway Rose artists have been fully vaccinated. 
Content Advisory: Analog & Vinyl is recommended for ages 13 and older. The show considers metaphysical and philosophical questions and contains strong profanity, religious themes, and references to sex, alcohol, cigarettes, and drugs. Click here for our Pre-Viewing Sensory Guide for Children and Adults with Disabilities
Run time is approximately 1 hour and 45 minutes with no intermission.  
Analog & Vinyl is presented by special arrangement with Uproar Theatrics
www.UproarTheatrics.com
Streaming is made available through ShowTix4U, a web browser-based video platform.
Title Sponsor


Show Sponsor


Cast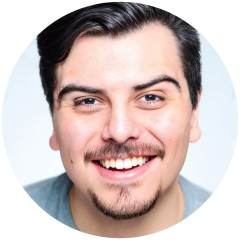 Alec Cameron Lugo as Harrison
Alec Cameron Lugo (he/him), a local mixed-race Latine performer, is very excited to be back once again with Broadway Rose Theatre Company, having previously appeared in Into the Woods, Sherlock Holmes and The West End Horror, and most recently in the 2021 streamed production The Story of My Life. A 2016 graduate of Pacific University, he has theatre credits including productions with Northwest Children's Theatre (Seussical, Mary Poppins), Anonymous Theatre Company (The 25th Annual Putnam County Spelling Bee, A Midsummer Night's Dream), Oregon Children's Theatre (The Legend of Rock, Paper, Scissors!), and Fuse Theatre Ensemble (Cabaret), among others. Television credits include the Emmy-nominated Documentary Now! episode "Original Cast Recording: Co-op" on IFC. Alec is also a graphic designer, videographer, and marketing consultant, and operates primarily as the marketing manager with Bag&Baggage Productions. His design work has been featured both locally, regionally, and nationally. IG: @middlename_cameron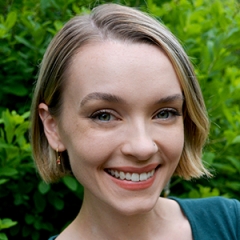 Molly Duddlesten as Rodeo Girl
Molly made her Broadway Rose debut in The Addams Family as Wednesday Addams and is so excited to be back! She is a proud Oregon State University graduate, having earned her B.A. in English back in 2020. She has participated in numerous local productions throughout the years, most recently appearing as Casey in Enlightened Theatrics' production of First Date.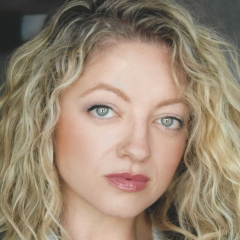 Jessica Brandes as "The Stranger"
Jessica is thrilled to be making her Broadway Rose debut. She completed her undergrad in theatre at CAP 21/Tisch at New York University. She worked extensively in New York City with Andrew Lippa and Stephen Flaherty. She also had the honor of performing Cathy in The Last Five Years at The Other Palace in London, UK. Favorite regional roles include Eve in Children of Eden, Sally in Cabaret, and Rita in Lucky Stiff. Jessica is returning to the stage after a lot of time away becoming a primary care physician.
Creative
Directed by SHARON MARONEY
Music Direction by JEFFREY CHILDS
Set Design by ROBERT VAUGHN
Light Design by CARL FABER
Costume Design by ALLISON DAWE 
Prop Design by LIZ CARLSON and JEFF DUNCAN
Sound Design by BRIAN KARL MOEN
Video Production by MARK DANIELS
Stage Manager JESSICA JUNOR
Musicians
Keyboard JEFFREY CHILDS
Guitar ERIC TONER
Bass AMY ROESLER
Drums ALEX GEFFEL
News, Reviews, and Buzz
A Rock-and-Roll Fan Meets the Devil in Broadway Rose's Musical "Analog & Vinyl"
by Bennett Campbell Ferguson
Willamette Week, Jul. 22, 2021
It would be easy to write an entire review of Robert Vaughn's set design or Allison Dawe's costumes, which include a sparkly pantsuit worn by ["The Stranger"] and a metallic jacket so cool it tempts [Rodeo Girl] to sell her soul… Read more.
BWW Review: ANALOG & VINYL at Broadway Rose
by Krista Garver
Broadwayworld.com, Jul. 15, 2021
[Analog & Vinyl] was exactly what I wanted to see. This lighthearted musical by Paul Gordon is pure entertainment… Read more.

Broadway Rose lights up the stage with Analog & Vinyl
by Judy Nedry
JudyNedry.com, Jul. 14, 2021
This is a cute, very smart rom-com musical that is full of laughs, surprises, and pithy truths about human existence. The music and lyrics are delightful… Read more.
8 things to do this week: Cathedral Park Jazz Fest, Gresham Arts Festival, and Shakespeare outdoors
by Rosemarie Stein
The Oregonian, Jul. 14, 2021
Broadway Rose Theatre is in the middle of its first live stage production in more than a year… Read more.

Live From Tigard, It's Analog & Vinyl!!!
by Tina Arth
Westside Theatre Reviews, Jul. 13, 2021
Whether she is singing, striding, or smirking [Jessica Brandes] commands 100% of the audience's focus every time she appears on stage, and she never wastes a moment or move… Read more.
Midday Cabaret
Hosted by Managing Director Dan Murphy, Midday Cabaret is a livestream series featuring interviews and performances with artists from current productions and throughout Broadway Rose's production history. On July 14 our special CAST EDITION cabaret featured Molly Duddlesten and Alec Cameron Lugo from Analog & Vinyl! Watch the recording to get to know the artists, hear about making the show, and enjoy musical performances.